HSMC Symposium on Sustainability and Bamboo
20 July 2015
HSMC Symposium on Sustainability and Bamboo
Hang Seng Management College (HSMC) has been putting emphasis on sustainability education and sustainable buildings in the form of the College's building design, selection of building materials, construction, operation, maintenance and so on. The application of bamboo, one of the fastest-growing plants in the world with high compressive and tensile strength, and the concept of green campus are some of the distinctive features of HSMC. To raise public awareness on this issue and to exchange good practices and experiences with professionals from the broader field of sustainability, HSMC co-organised with United Nations Educational, Scientific and Cultural Organization – Asia Pacific Programme of Educational Innovation for Development (UNESCO-APEID) the HSMC Symposium on Sustainability and Bamboo on 19 – 20 July 2015. Around 300 participants joined the Symposium.
At the Opening Ceremony, Professor Simon S M Ho, President of HSMC, warmly welcomed all distinguished guests and was pleased that HSMC was the first institution in the region to organise the Symposium which provided an arena for promoting sustainable development and the use of bamboo. We were honoured to have Mrs Carrie Lam, GBS, JP, Chief Secretary for Administration of HKSAR Government and Professor Wang Li-bing, Programme Coordinator of UNESCO-APEID to be our officiating guests. Mrs Lam recognised HSMC's efforts to apply global green concepts to modernise the campus and to achieve accreditation for some of its buildings. She also wished HSMC to achieve the title as a private university soon. Professor Wang specified that climate change, biodiversity, and green campuses were all regarded as important issues pertaining to the environmental domain of sustainable development and wished to collect innovative practices concerning climate change and sustainability through the Symposium.
The unveiling ceremony was hosted by President Simon Ho, Mrs Carrie Lam, Professor Wang Li-bing, Mr Martin Tam, member of Board of Governors and Chairman of Steering Committee on Campus Expansion, Dr Tom Fong, Chairman of the Symposium Organising Committee and Associate Vice-President (Student Development and Campus Services) and Mr Lee Ting, student leader from the HSMC Green Society.
On Day 1, four rounds of panel discussions were held at the Auditorium. Dr Tom Fong, Mr Martin Tam, Dr Shirley Yeung​, Director, Centre for Corporate Sustainability and Innovations,​ and Professor Raymond So, Dean, School of Business, from HSMC assumed the role of moderators and debated with a total of 16 panelists from UNESCO, public bodies, professional associations, and higher education institutions. The experts shared their knowledge and experience on various topics including "Climate Change and Sustainability – Implications on Learning Environment", "Climate Change and Sustainability – Implications on Sustainable Buildings", "Sustainability and Campus Development: the Era of Innovation" and "Sustainability and Campus Development: the Application of Bamboo".
We were delighted to have Mr Wong Kam-sing, JP, Secretary for the Environment as the guest speaker at dinner on Day 1. He shared his experience of promoting environmental initiatives in Hong Kong and the road of sustainable development in the future.
In "Dialogue with Students" on Day 2, Professor Wang Li-bing exchanged views with student team of HSMC Green Society, Dr Susan Bosco, Associate Professor of Management from the Roger Williams University, gave a presentation on "Bamboo Production – Who are the Workers?" with Mr Nigel P Howard, Principal of Clarity Environment, International Initiative for a Sustainable Built Environment, as the respondent. Students were greatly inspired and were motivated to advocate environmental measures. Day 2 was also an Open Day with booths and exhibition related to sustainability and bamboo were set up and students were toured around the campus.
The Symposium was widely supported by various local and overseas institutions, including International Network for Bamboo and Rattan (INBAR), International Centre for Bamboo and Rattan (ICBR), International Initiative for a Sustainable Built Environment (iiSBE), Council for Sustainable Development, Construction Industry Council, Hong Kong Green Building Council Limited, The Hong Kong Institute of Architects, The Hong Kong Institute of Landscape Architects, The Federation of Hong Kong Industries and Friends of the Earth (HK).
Group photo at the Symposium Opening Ceremony (From left) Mr Martin Tam, President Simon Ho, Mrs Carrie Lam, Professor Wang Li-bing, Dr Tom Fong and Mr Lee Ting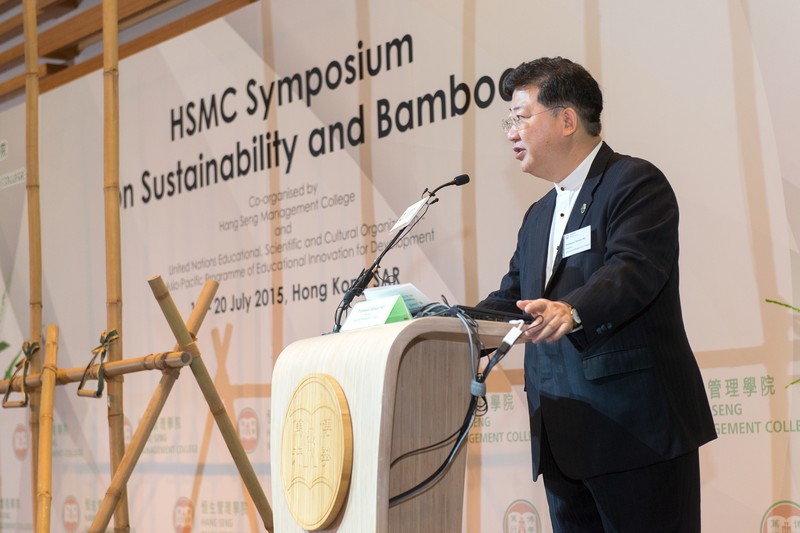 President Simon Ho delivered his welcome address at the Symposium Opening Ceremony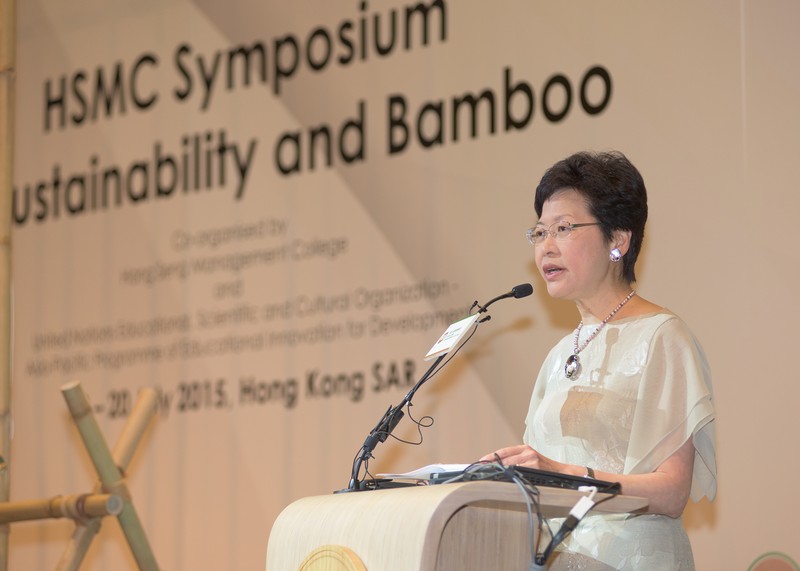 Mrs Carrie Lam delivered her speech at the Symposium Opening Ceremony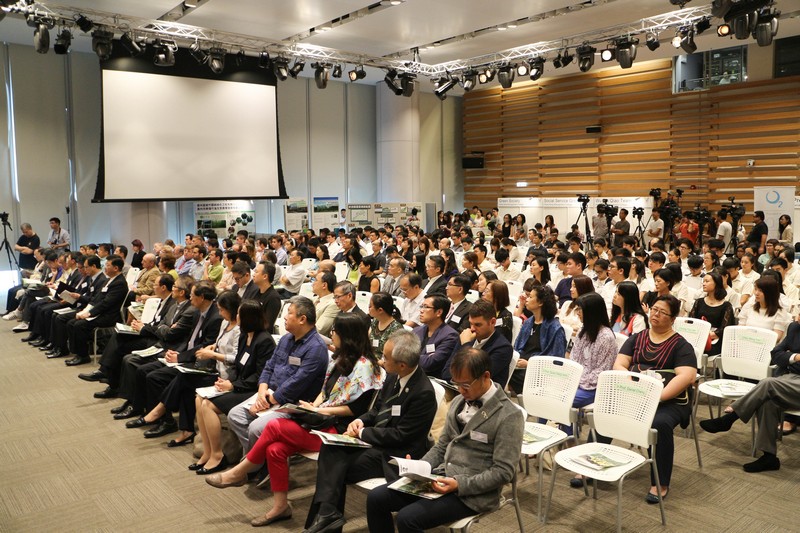 Scenes at the Symposium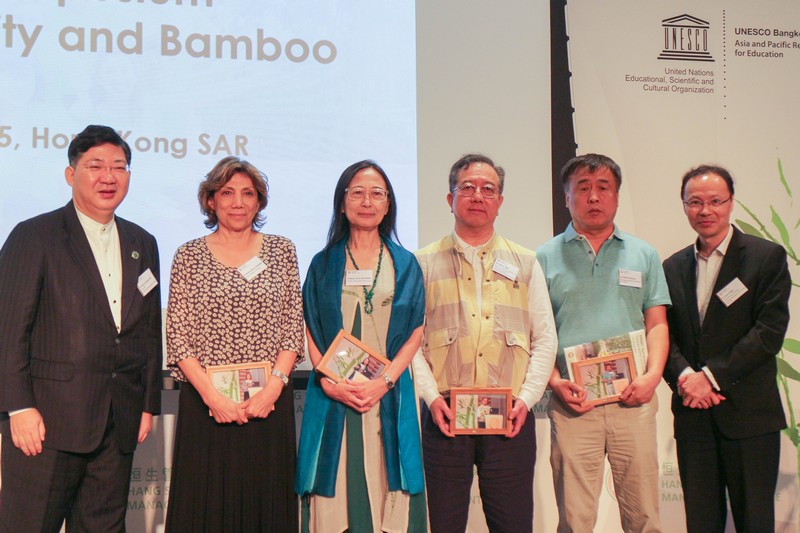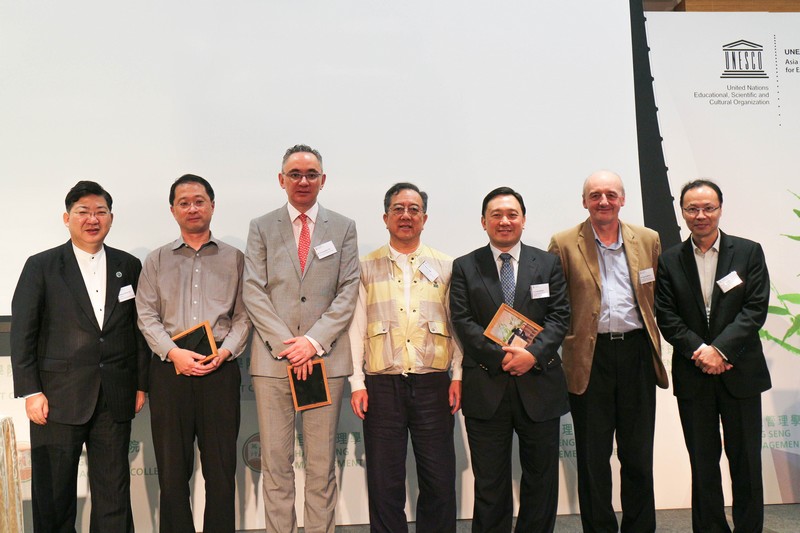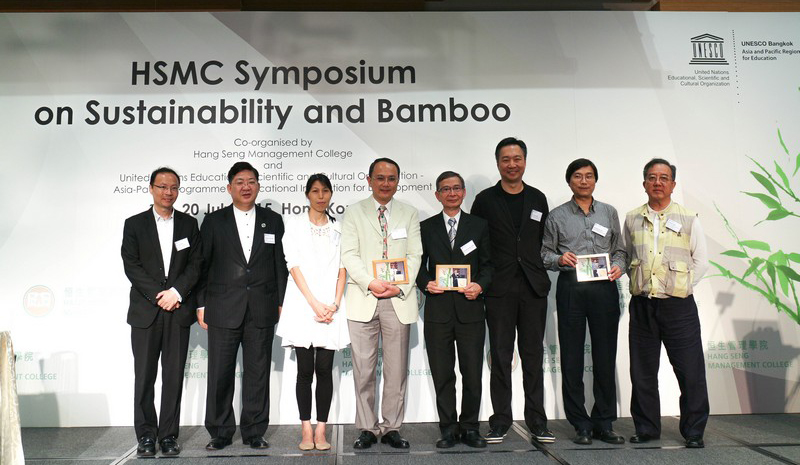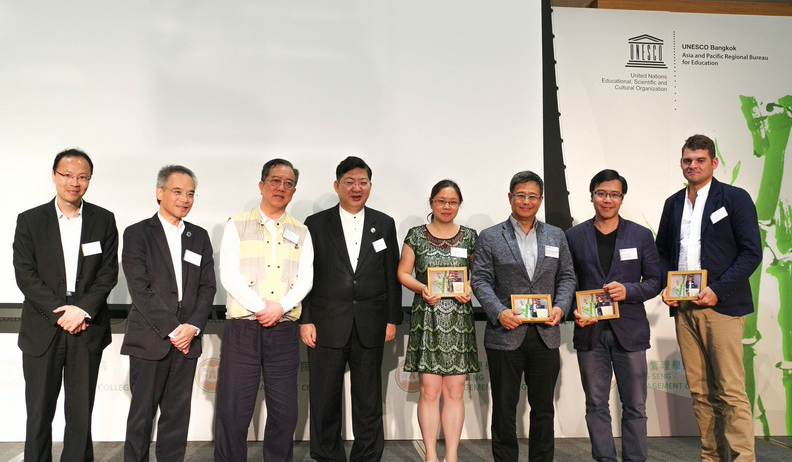 Group photos of President Simon Ho, Dr Tom Fong, moderators and penalists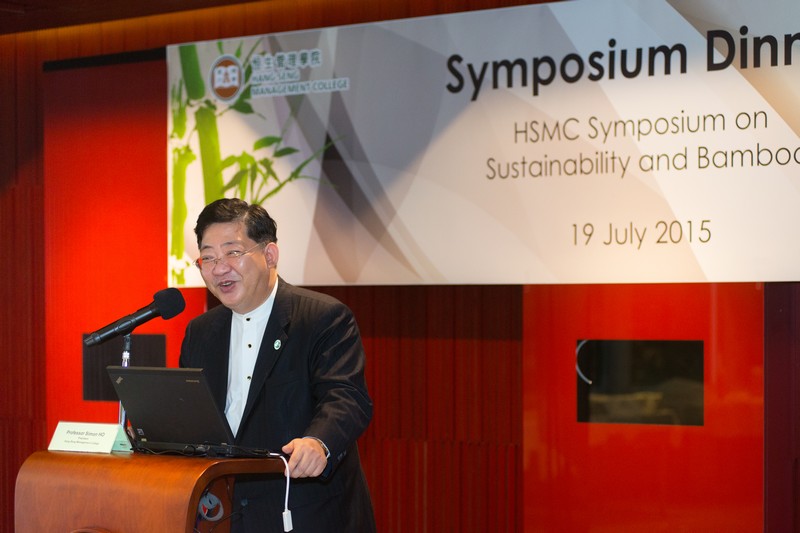 President Simon Ho gave his speech at the Symposium dinner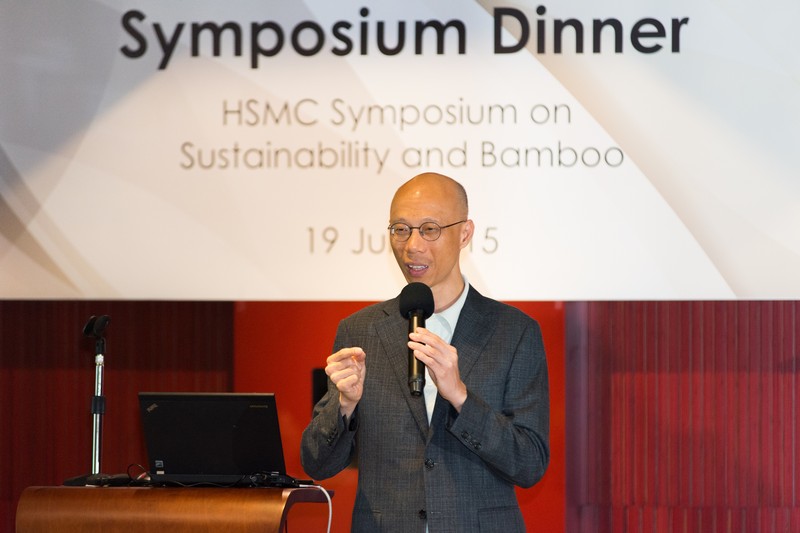 Mr Wong Kam-sing shared his vision on Hong Kong's sustainability development with the guests at the Symposium dinner
Group photo at the Symposium Dinner (From left) Professor Y V Hui, HSMC Vice-President (Academic and Research), Dr Shirley Yeung, Ms Michelle Au, Political Assistant to Secretary for the Environment, Professor P C Wong, HSMC Director of Information Technology, President Simon Ho, Mr Wong Kam-sing, Professor Wang Li-bing, Mr Martin Tam, Dr Tom Fong, Professor Scarlet Tso, HSMC Associate Vice-President (Communications and Public Affairs), and Dr Vivian Taam Wong, Chairperson, Friends of the Earth