Opening Ceremony of "In the Mood for Animals—a contemporary art exhibition of five Hong Kong artists"
14 October 2015
Opening Ceremony of "In the Mood for Animals—a contemporary art exhibition of five Hong Kong artists"
The contemporary art exhibition "In the Moodfor Animals", as presented by Arts atHSMC, opens from early October to 11 December 2015.  The opening ceremony of the exhibition washeld on 14 October 2015 on 2/F of Lee Quo Wai Academic Building. The College washonoured to have the presence of Ms Michelle Li Mei-sheung, JP, Director ofLeisure and Cultural Services of the HKSAR Government, Ms WinsomeChow, Chief Executive of Hong Kong Arts Development Council, and many guestsfrom the arts community, who showed their support for HSMC and its artspromotion programmes.
President Simon S M Ho welcomed all guests onbehalf of HSMC and remarked that the College's "Liberal + Professional"education model emphasised both professional knowledge and training and students'all-round development. The Arts at HSMCprogramme was launched in 2014 to promote arts, which would help enrichstudents and extend their horizons. This contemporary art exhibition was animportant project of Arts at HSMCthat had allowed the participating artists to create art space on campus aswell as aesthetic experiences in students' everyday college life.
Ms Michelle Li Mei-sheung, JP, officiated atthe opening ceremony and expressed her appreciation to HSMC for the specialefforts they had made to promote arts to students. She remarked that Arts at HSMC would not only enhancestudents' ability to appreciate arts and contribute to students' all-rounddevelopment, but also facilitate exchanges between the artists and the youngviewers, cultivating precious experiences for both parties. She echoed that theunique "Liberal + Professional" education model of HSMC had exemplified theChinese thought of Great Learning in Sìshū《四書》.
Ms Li remarked that she was looking forwardto future collaborations between LCSD and HSMC as they share the same vision tobring cultural activities and arts into the lives of young people.
MrAlmond Chu, Curator, said that he was honoured to be entrusted as the curatorof  HSMC's  debut visual art exhibition. He also expressedhis appreciation to HSMC for their support for arts development and the artscommunity in Hong Kong.
Finally,Ms Michelle Li, JP, President Simon Ho, Professor Gilbert Fong and the five participatingartists—Mr Almond Chu, Mr Kum Chi Keung, Mr Lam Tung Pang, Ms Ann Mak and Ms SaraTse officiated the ribbon-cutting ceremony.   
The"Art Forum: Animals and Inspiration" was held at the Auditorium, 2/F of Lee QuoWai Academic Building after the opening ceremony.  With Professor Kurt Chan, Department of FineArts of The Chinese University of Hong Kong, as the guest moderator, the fiveartists shared and discussed the creative ideas of developing the artworks displayedat the exhibition and the development of their artistic careers.  More than 200 participants attended.
Furthermore,to promote arts education and enhance young people's interest in visual arts,the College organises guided tours of this exhibition for HSMC students andsecondary school teachers and students until 11 December 2015. For enquiries,please call 3963 5003.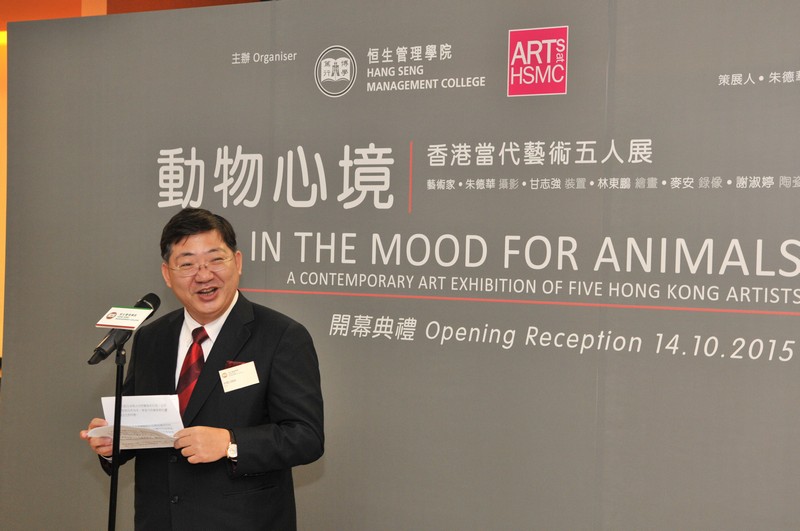 President Simon Ho delivered his welcome address at the Opening Ceremony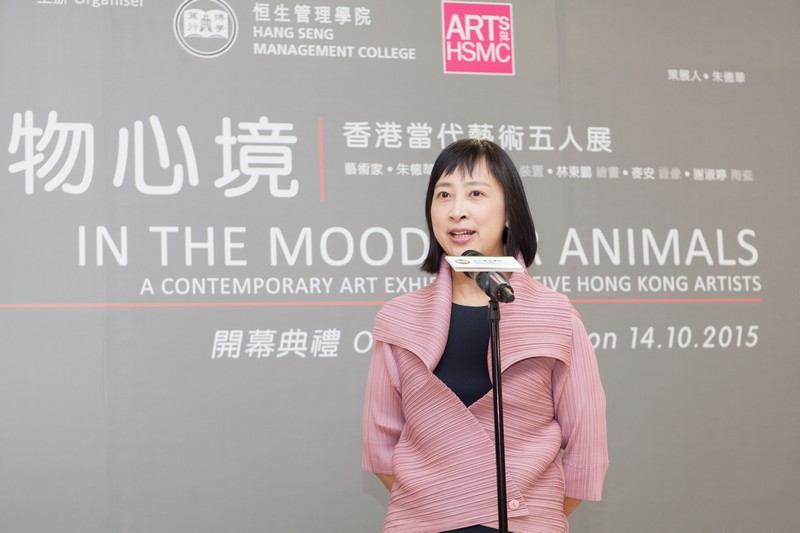 Ms Michelle Li, JP, Director of Leisure and Cultural Services, officiated at the Opening of the exhibition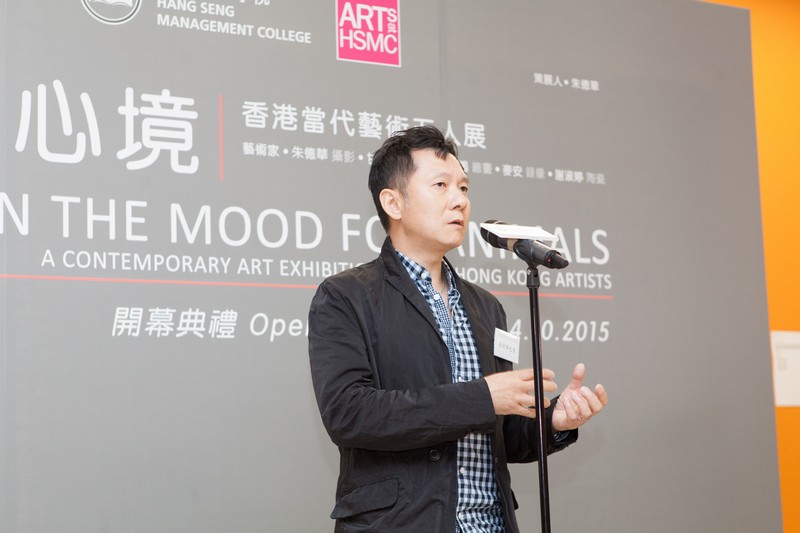 Mr Almond Chu, Curator of the art exhibition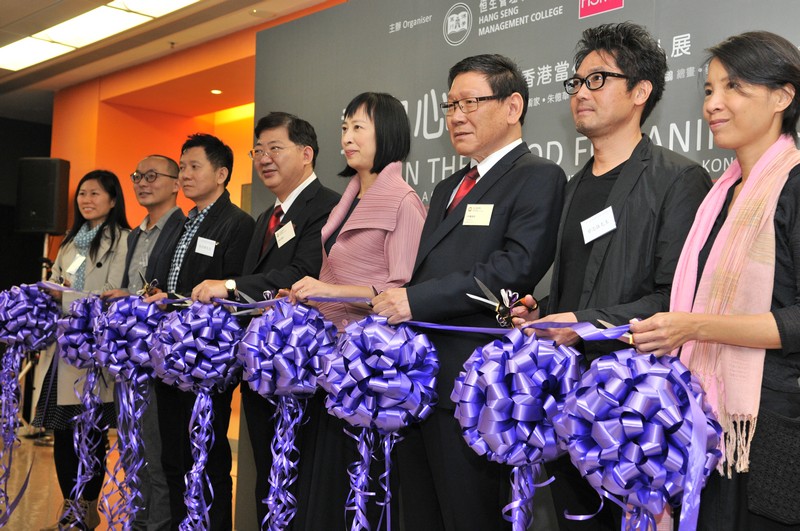 Ribbon-cutting ceremony by (from left) Sara Tse, Lam Tung Pang, Almond Chu, Prof Simon Ho, Ms Michelle Li, Professor Gilbert Fong, Kum Chi Keung and Ann Mak
Group photo of officiating guests and senior management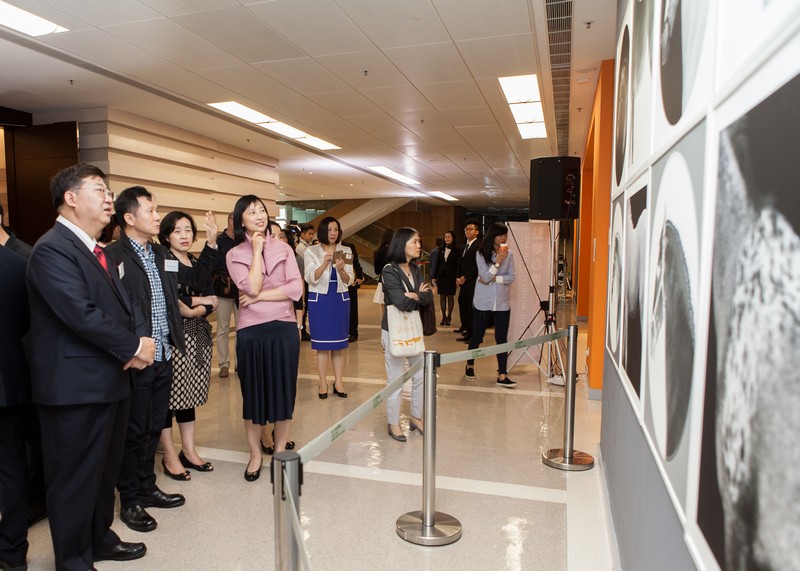 Guests visited the art exhibition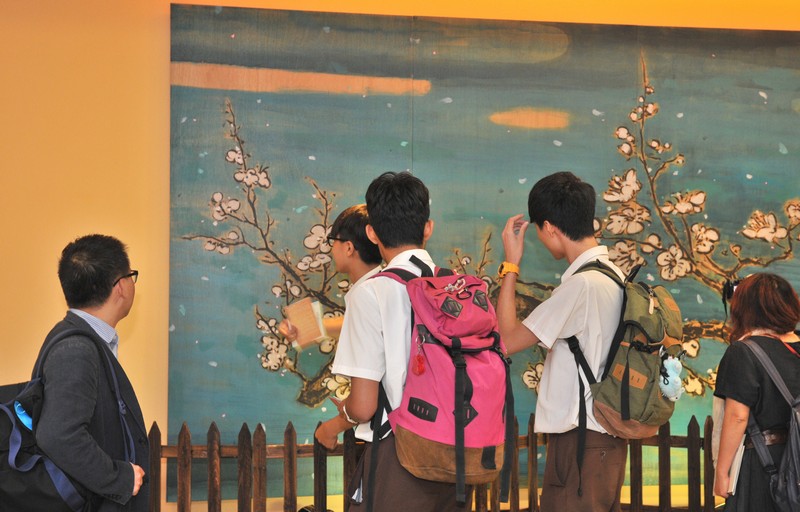 Secondary school teachers and students visited the exhibition and attended the Art Forum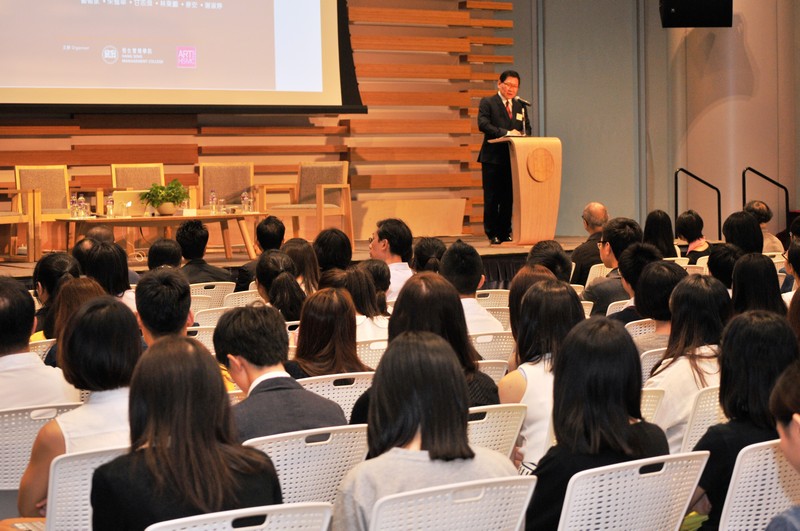 Professor Gilbert Fong, Provost gave a welcoming remark at "Art Forum: Animals and Inspiration"

Art Forum with (from left) Lam Tung Pang, Kum Chi Keung, Almond Chu, Professor Kurt Chan, Ann Mak and Sara Tse