HSUHK Professional Mentorship Scheme 2021 – the First-ever Online Kick-off and Welcome Session
23 January 2021
The HSUHK Professional Mentorship Scheme (PMS) is a signature programme organised by the Student Affairs Office (SAO) which aims to connect HSUHK students with industry professionals from diverse fields, broaden their professional network and enhance their industry knowledge so as to lay a good foundation for their future career development. This year, the scheme has recruited more than 60 dedicated mentors from the fields of accounting, human resources, marketing, banking and finance, aviation, education, social services, logistics, etc, offering personalised career guidance to 122 HSUHK mentees from January to August 2021.
It is indeed a challenging year for the scheme as social distancing measures due to COVID-19 has posed barrier to connect our large group of mentors and mentees. Nevertheless, to enhance interactions among all PMS participants and to kick-start this annual signature programme officially, the first-ever online Kick-off and Welcome Session was held via Zoom on 23 January 2021, which was well-attended by over 50 mentors and 115 mentees. In the welcome speech, Dr Tom Fong, Vice-President (Organisational Development), was grateful for the substantial growth in the number of mentors this year and expressed gratitude to all mentors for their devoted support to HSUHK students over the years, especially amid the current difficult pandemic situation. Also, he encouraged students to participate in a wide array of PMS activities actively to maximise their learning from the scheme and equip themselves for upcoming challenges. Ms Esther Lee, Acting Director of Student Affairs, then gave a remark to encourage students to take initiative to interact with mentors and their fellow mentees, wishing that students would head towards their own 'growth zone' by stepping out of their comfort zones under the guidance of mentors. Under the new normal, she believed that the mentorship scheme could help students move forward despite the adversity.
To bestow a special meaning to the PMS online Kick-off and Welcome session, a 'virtual HSUHK campus' animation was designed, in which a small plant grew when all mentors and mentees typed the hashtag '#PMS2021' in the Zoom chatbox to represent their dedicated devotion to the scheme. With enthusiastic input from all mentees and mentors, the small plant eventually grew into a towering tree that connected all mentors and mentees virtually, representing their joint efforts to foster a flourishing mentoring relationship.
After the ceremony, two seasoned mentors Mr Jason Wong and Mr Vincent Tam and two mentees shared their fruitful experience and mentoring tips. Although face-to-face meetings were under restrictions in 2020, the two mentees could still communicate with their mentors actively by utilising various online communication tools. Mr Tam and Mr Wong also offered tips and examples on how to thrive in adversity with reference to their own experience and suggested ways to maintain fruitful mentoring relationships with students.
After learning tips from mentors' and mentees' sharing, the mentors and mentees were able to e-meet each other in their mentorship group via virtual breakout rooms. All participants enjoyed this online chit-chat session and even took some creative screencaps with their team members to commemorate this memorable occasion. All were excited to kick-start the mentoring relationship and we wish everyone a fruitful mentorship experience ahead.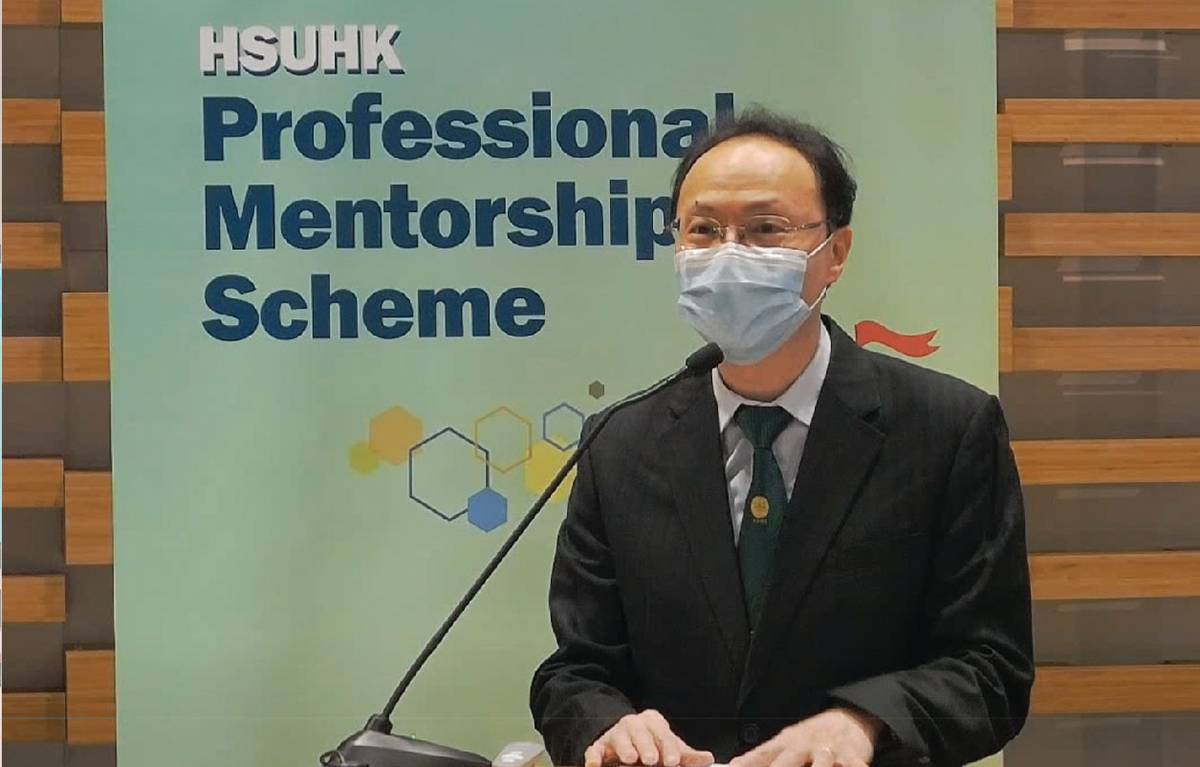 Dr Tom Fong, Vice-President (Organisational Development), delivers a welcoming speech.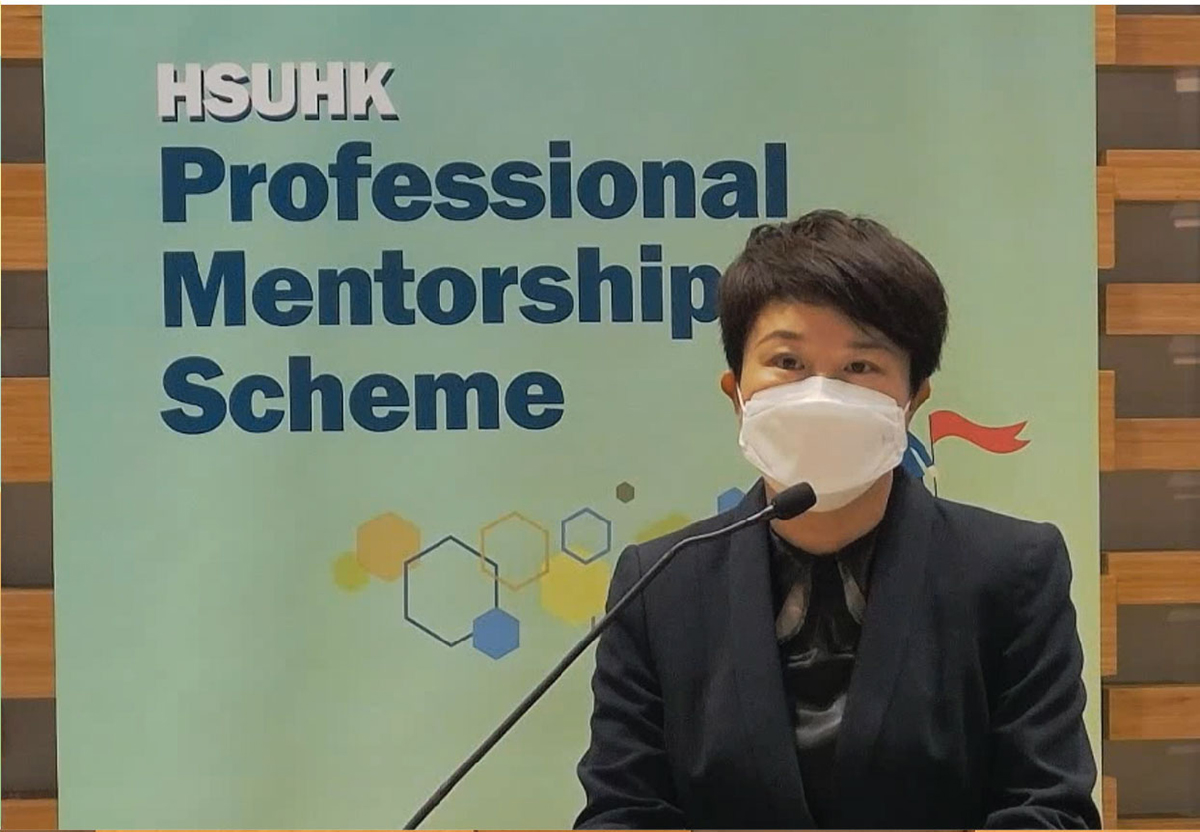 Ms Esther Lee, Acting Director of Students Affairs, encourages students to step out of their comfort zones and interacts actively with their mentors.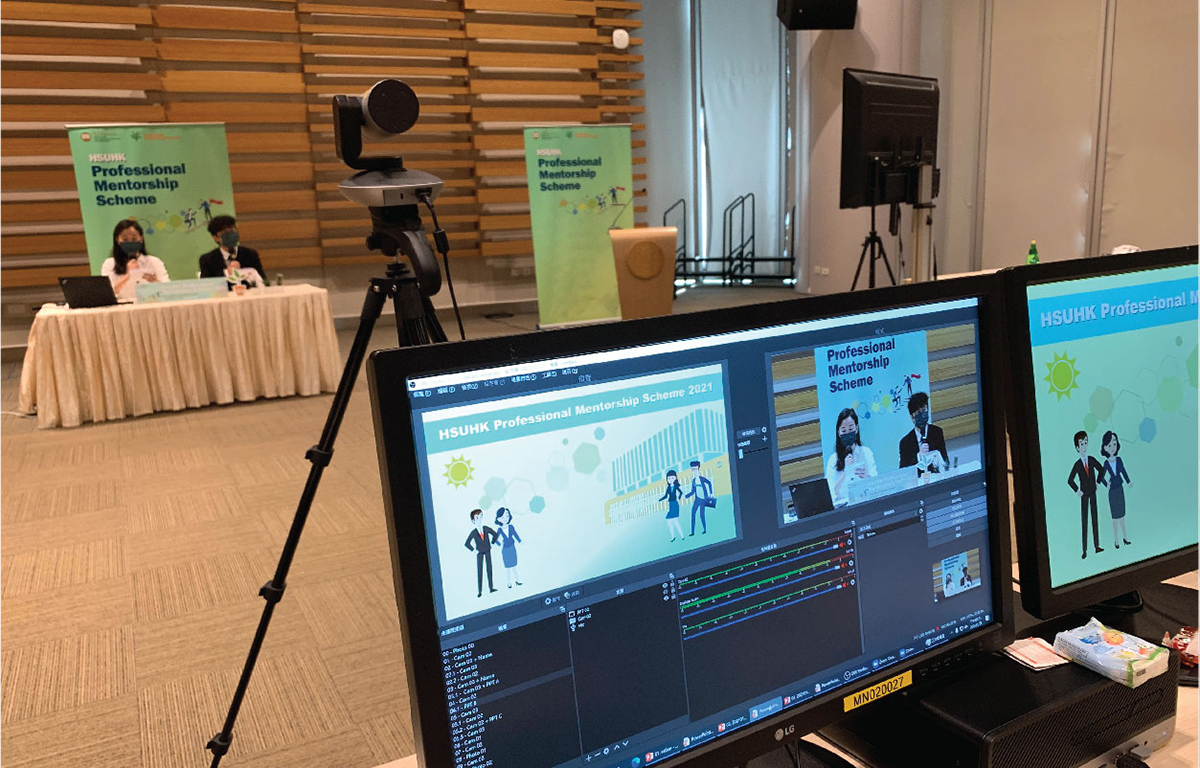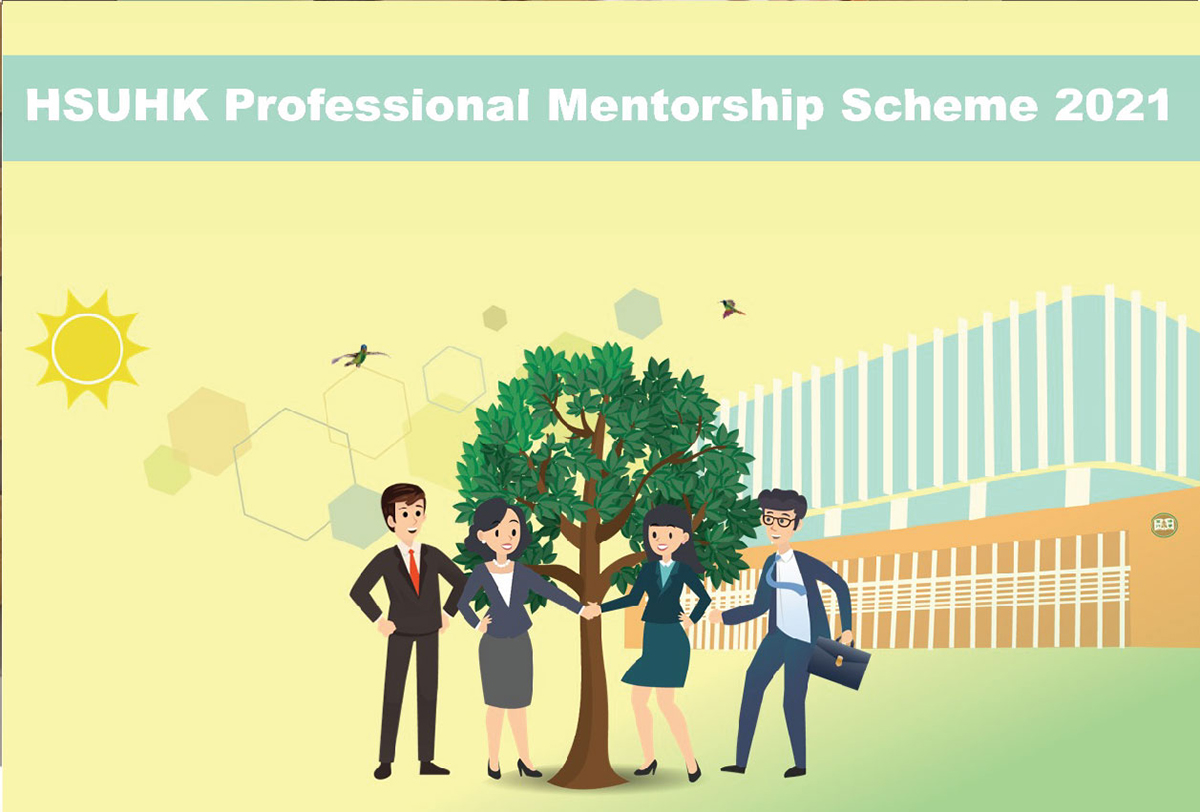 It was the first time for the Kick-off and Welcome Session to be organised online, connecting all mentors and mentees on the 'virtual HSUHK campus'.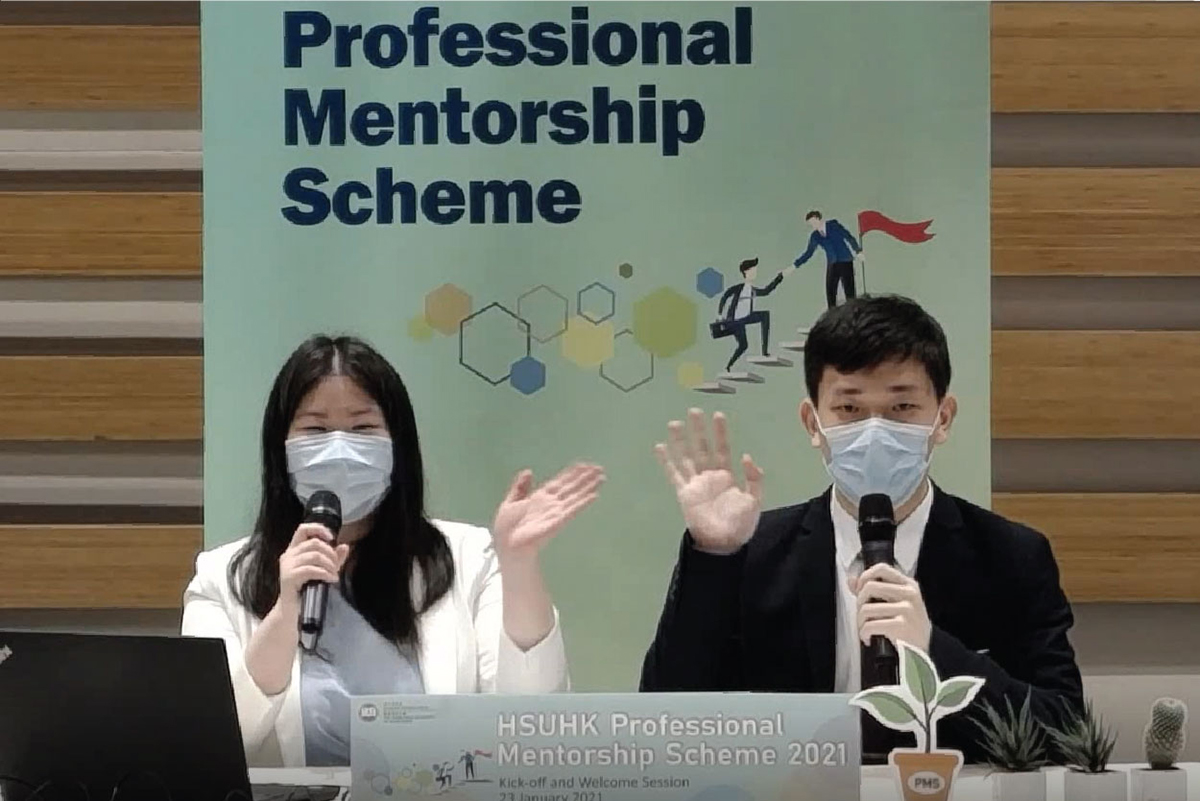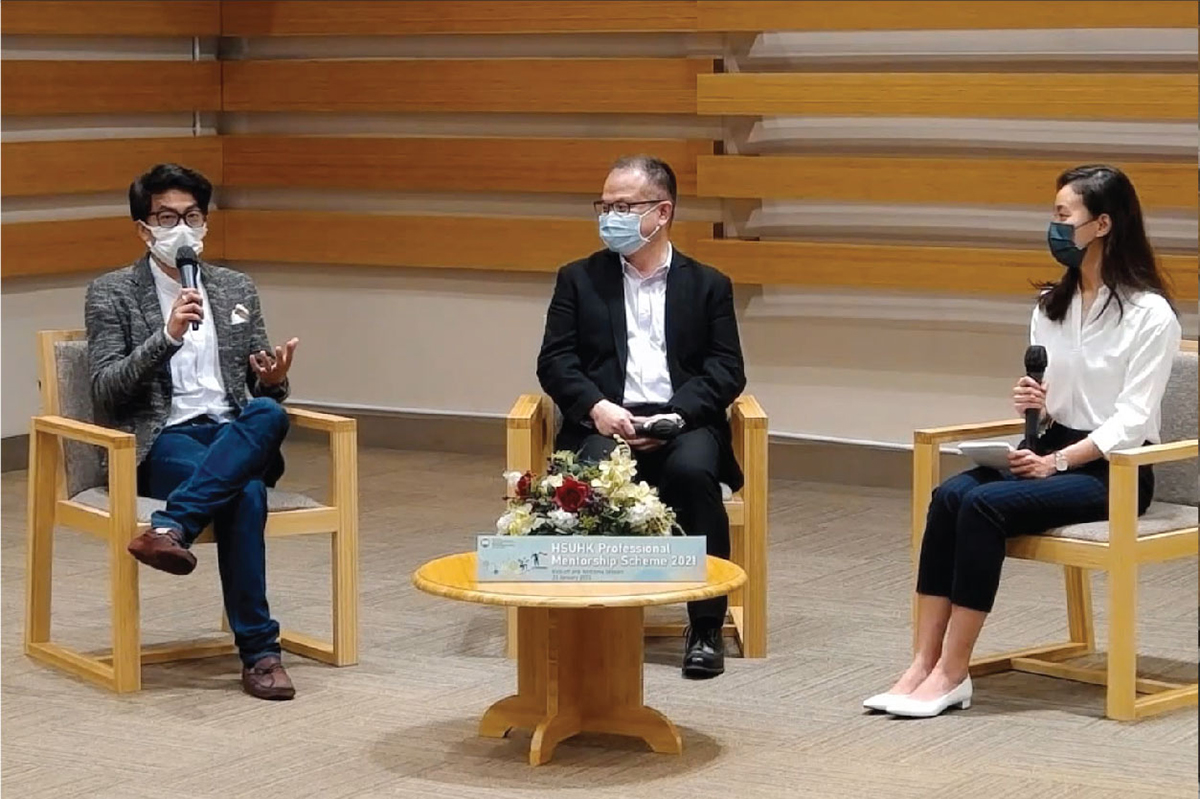 Two mentors and two mentees share their fruitful mentoring experience and offer useful tips to fellow participants.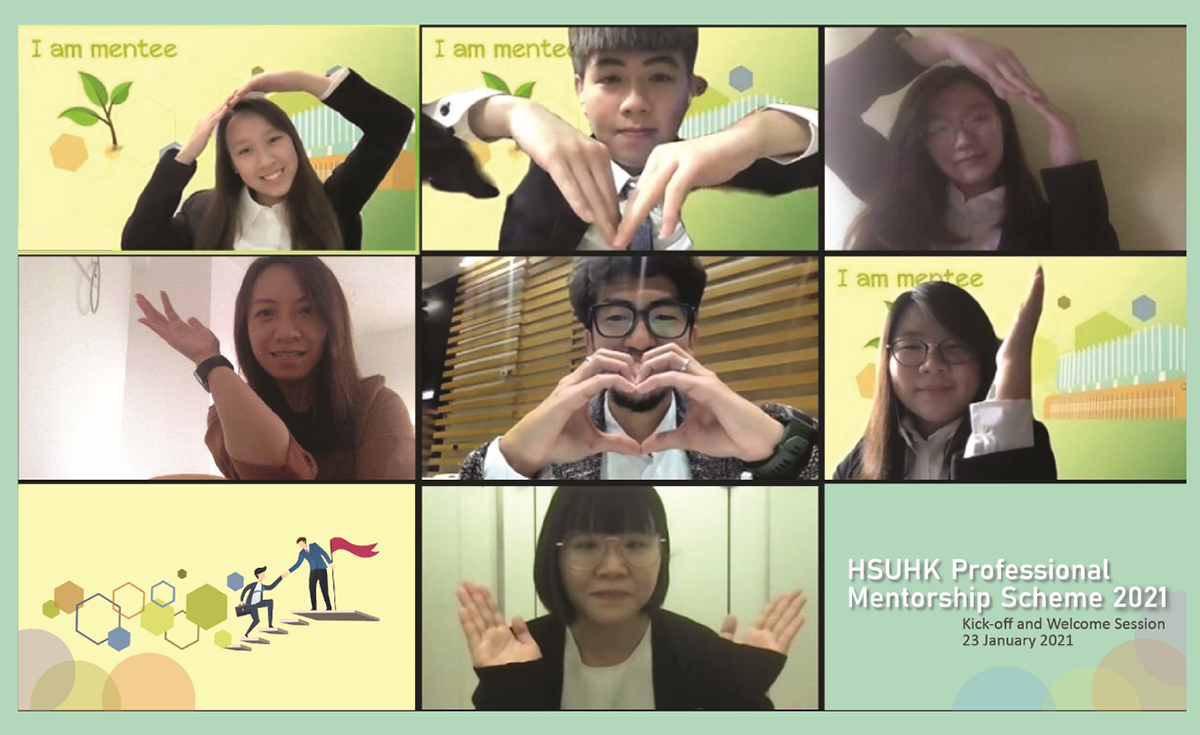 Mentors and mentees enjoy the small-group chit-chat session in the breakout room.
Around 170 mentors and mentees attend the Online Kick-off and Welcome Session of HSUHK Professional Mentorship Scheme 2021.