HSUHK Innovation Project Competition 2023 – "Smart Campus" Open for Application!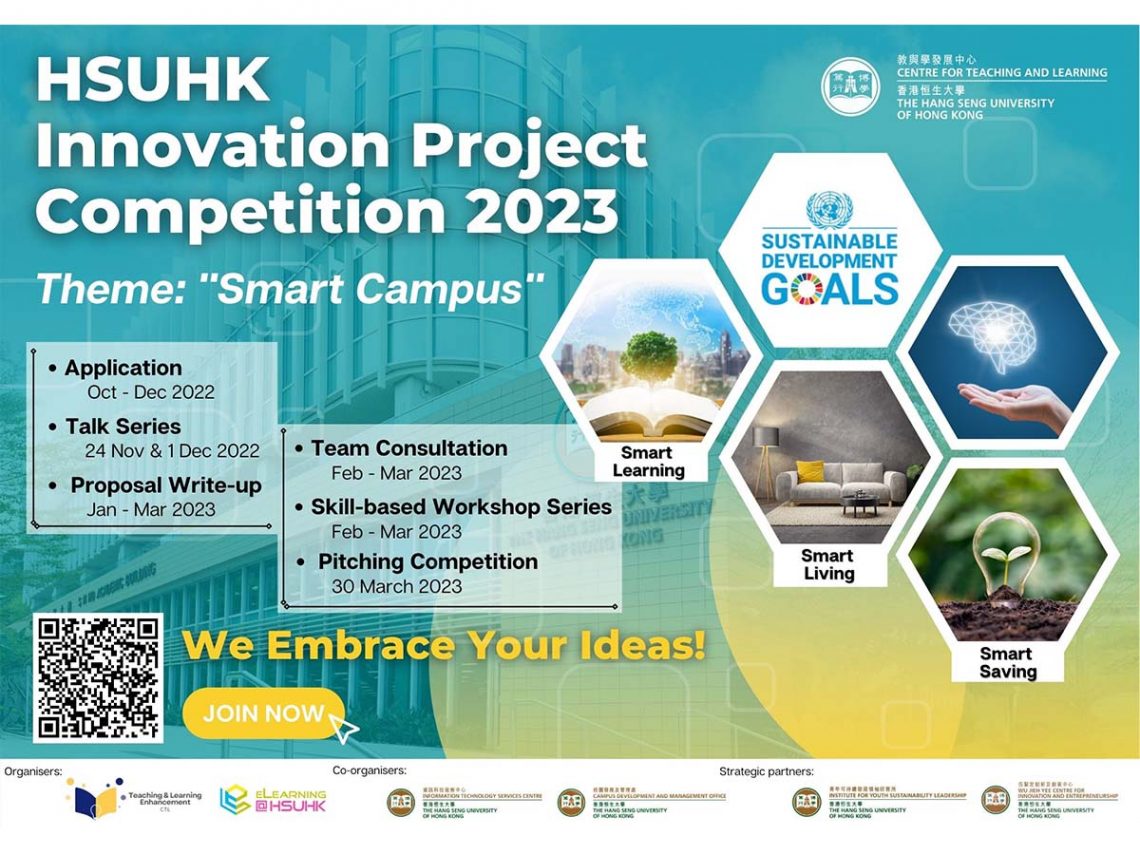 The "HSUHK Innovation Project Competition 2023" ("the Competition") aims to promote a culture of innovation and creativity to HSUHK students and to raise their awareness of the local and global social issues. Through training of various modes and selected themes and a showcase of project proposals through on-stage pitching, the Competition also strives to enrich the student learning experience at HSUHK.
Theme of the HSUHK Innovation Competition 2023: Smart Campus
We are inviting you, HSUHK students, to improve your very own campus through combining smart technologies with physical infrastructure for improved services, decision making, campus sustainability and more. This year, you may also get a chance to receive support or budget and implement your innovative projects! 
Let's transform our university into a smart and sustainable place, to learn and to teach!
While you will be awarded a participation certificate, you may also win the following cash prizes:
    Champion: HK$20,000 and an award certificate
    1st runner-up: HK$10,000 and an award certificate
    2nd runner-up: HK$5,000 and an award certificate
    4 special prizes: HK$3,000 each and an award certificate
Participating project teams will be invited to give a 3-minute pitch on their projects at the Pitching Competition on 30 March 2023 (Thursday).  The results of the Competition will be announced shortly after the Pitching Competition at the Award Presentation Ceremony.  More information will be announced in due course.
The awarded teams will also be recommended to join the Pre-Incubation Programme and HSUHK Entrepreneurship Challenge organised by the Wu Jieh Yee Centre for Innovation and Entrepreneurship (WUCIE).
How Can We Submit an Application?
Participants must form a project team of 2 to 4 students and submit the application form on or before 30 December 2022 (Participating project teams DO NOT need to submit proposals in the application stage).
At least 50% of their teammates should sign up for all the workshops and activities lined up. The attendance may affect their chance of being shortlisted/will be shown in the marking sheet.
After forming your team, please submit the Online Application Form.
For further details of the competition schedule and guideline, you are welcomed to visit our website.
Should you have any enquiry, please feel free to contact us at teaching-learning@hsu.edu.hk or 3963 5011.
We look forward to receiving your application on or before 30 December 2022 (Friday).
Yours faithfully,
Centre for Teaching and Learning (CTL)