HSMC Organised the First in Hong Kong Bamboo Bicycle Workshop and Test-ride
30 January 2015
HSMC Organised the First in Hong Kong Bamboo Bicycle Workshop and Test-ride
Aspiringto be the first "Bamboo University" in Hong Kong, Hang Seng Management College(HSMC) extensively made use of bamboo for its high regeneration rate anddurability as construction materials and interior furniture in its newbuildings. To convey green living concepts and the message "Doing-it-yourselfinstead of Buying it" to students, HSMC worked with Bamboo Bicycles Beijing(BBB) to coorganise a bamboo bicycle workshop from January 23 to 26 on campus.After the four-day handcraftsmanship, four bamboo bicycles were built and openfor a test-ride.
HSMCarranged a test-ride activity in showcasing the student crew's production. Wewere honoured to have President Simon Ho and Mr David Wang, the Founder of BBB,to host the activity in spreading green ideas of energy-saving and sustainableliving.
Atthe test-ride activity, President Simon Ho said the bamboo bicycle workshop wasthe first of its kind in Hong Kong. It not only broadened our students' horizons,but also encouraged them to do healthy cycling which contributes to conservation of the environment. He was happy to see this meaningful activity being held on campus alongwith the application of bamboo in the College's construction and designfeatures.
Duringhis 6-year of stay in China, Mr David Wang, the Founder of BBB and aBeijing-based Chinese American, produced about 100 bamboo bicycles. He is avery passionate bamboo bicycle builder who wishes he could raise the publicinterest in bicycle riding and using bicycles for people's daily commutethrough handicraft workshops. He added, "HSMC students are energetic andardent. They brought me a fun and cheerful workshop which I had not experiencedback in Beijing."
Studentswho took part in the workshop expressed they have gained better understandingon bicycle structure and parts; while some of them realised that they wereempowered and should make effort to protect the environment.
HSMCanticipated there would be a lot more cooperative projects on sustainabilitywith external parties in the future. The bamboo bicycles built in this eventwill be open for auction at the HSMC Founders' Day Dinner on 16 March 2015. Allfunds raised will be used to support student development and campus expansionprojects of the College.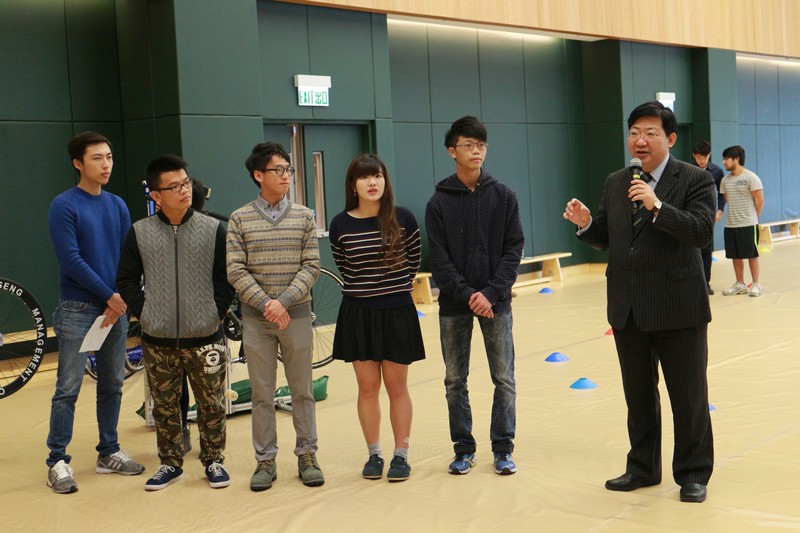 President Simon Ho gave a sharing speech at the test-ride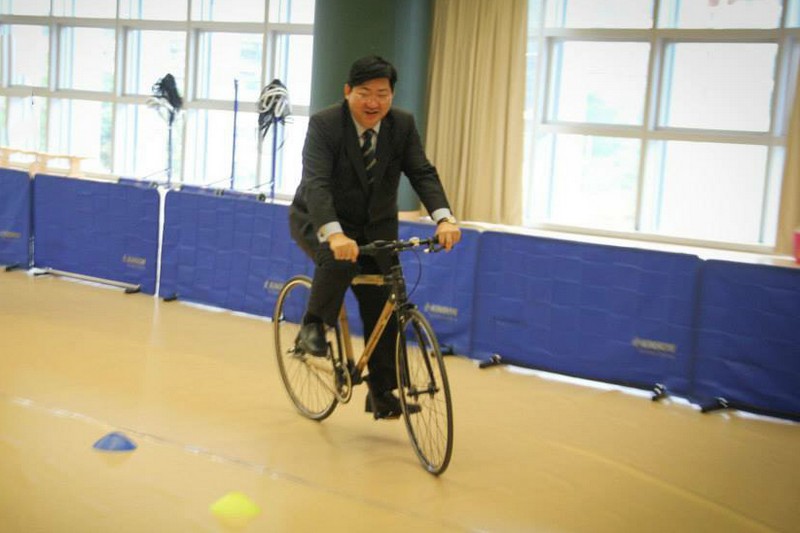 President Simon Ho tried out the bamboo bicycle at Sports Hall of Sports and Amenities Centre (Block B)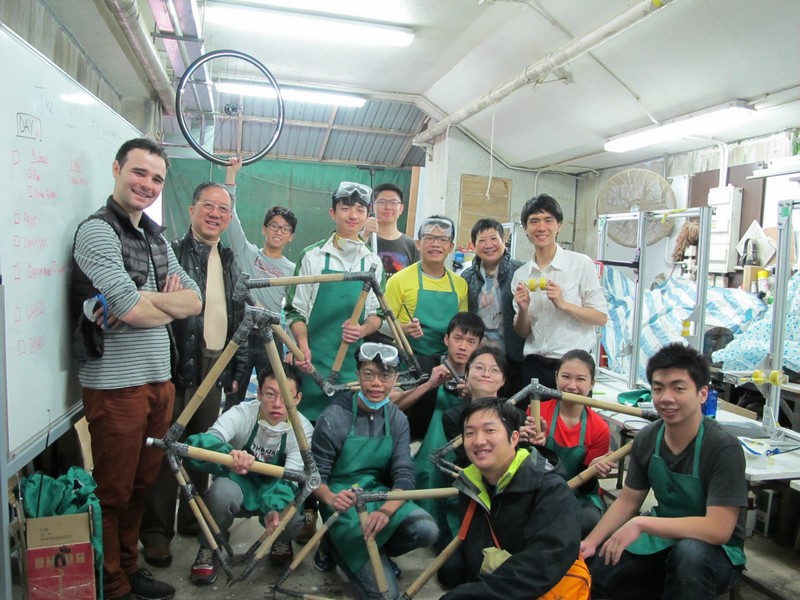 Mr Martin Tam (back row, 2nd from left), Member of HSMC Board of Governors and Chairman of the Steering Committee on Campus Expansion, visited the workshop and took a group photo with participants