Contract Signing Ceremony of Hang Seng Management College and the State Language Commission for Conducting the PSC Exam
28 October 2016
Hang Seng Management College and the State Language Commission extended their contract to another five years on the collaboration of conducting the Putonghua Proficiency Exam (PSC) in Hong Kong on 28 October 2016. President Simon S M Ho and Mr Zhang Shiping, Director of the Test and Training Center of Applied Linguistics and Putonghua of the State Language Commission, signed the contract at the twentieth anniversary for the implementation of the PSC Exam in Hong Kong.
Dr Du Zhanyuan, Vice Minister of Education and Chairman of the State Language Commission, Mr Yao Xishuang, Chief Secretary of the Department of Language Application and Administration of the Ministry of Education, Mr Liu Jin, Director of the Department of International Cooperation and Exchanges(Office of Hong Kong, Macao and Taiwan Affairs) of the Ministry of Education,Mr Huang Lester Garson, JP, Chairman of the Standing Committee on Language Education and Research (SCOLAR) of Hong Kong,and Mrs Marion Lai Chan Chi-kuen, JP, Permanent Secretary for the Education Bureau of Hong Kong, were all present for the contract signing ceremony.
The Putonghua Education and Assessment Centre of the Hang Seng Management College was established in June 2013. In the past three years, the Centre has been offering various courses to help candidates prepare for the PSC exam. These courses include "Preparation Course for the PSC Exam" and "Training on Putonghua Recitation and Adjudication." The Centre has also conducted the PSC exam for six times, having up to a thousand participants. 97% of them have reached the standard specified by HSMC for graduation.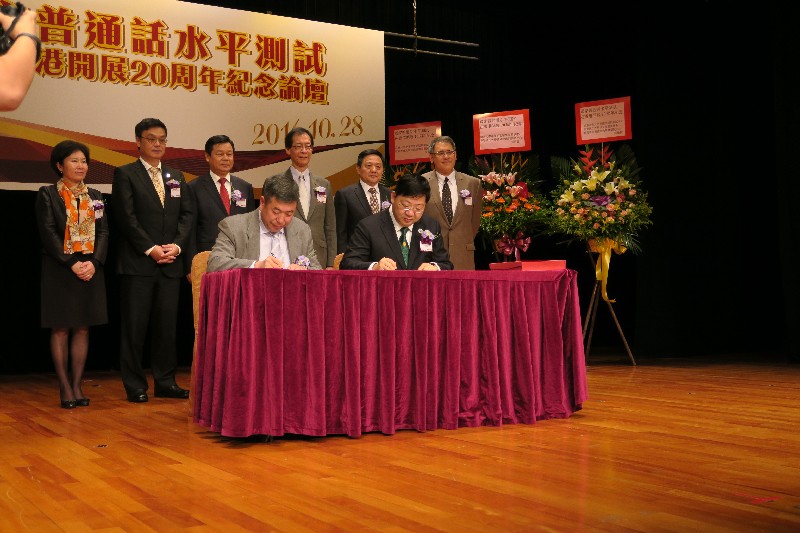 Hang Seng Management College and the State Language Commission signed the extended contract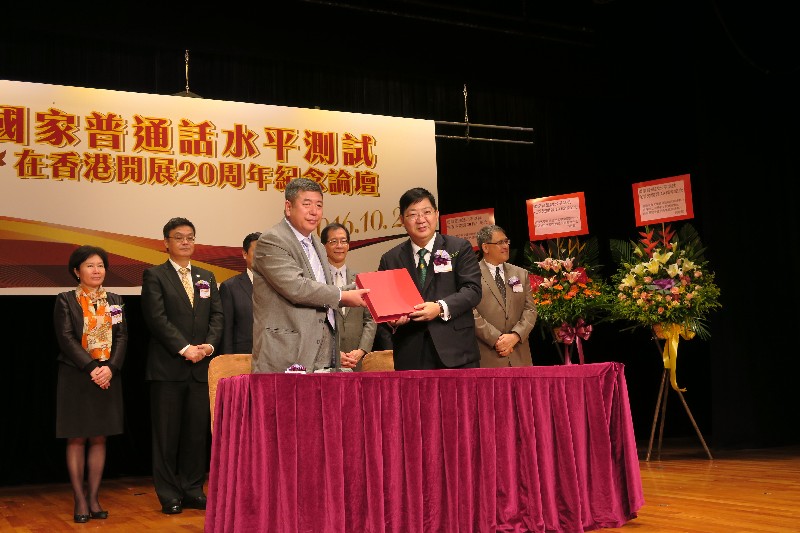 President Ho and Mr Zhang Shiping exchanged souvenirs