HSUHK Scholarship and Award Presentation Ceremony 2023
The Student Affairs Office held its annual 'Scholarship and Award Presentation Ceremony' on 4 May 2023 to recognise the outstanding academic achievements and remarkable performance of our students, as well as to show appreciation for the generous donations from our benefactors. Around 200 guests, including donors, staff, and students of HSUHK attended the joyful occasion.
In his welcome remarks, President Simon S M Ho, expressed sincere gratitude to scholarship donors for their generosity and their continuous support towards the University and its students, as our students received a total value close to HK$20 million in scholarships and financial assistance schemes in the 2022-23 academic year. To date, scholarship opportunities have expanded into four domains: entrance scholarships, academic scholarships, co-curricular scholarships, and overseas learning scholarships.
One of the awardees of the Fung Yiu King Scholarship for Exchange, Ms Cheryl Lee (BSc-DSBI, Year 4), documented her university life in Seoul and produced a short video to share with the audience. Cheryl conveyed her sincere appreciation for the generous support from the donor. She emphasised that the scholarship provided her with the support she needed to study abroad. With the opportunity, she was able to step out of her comfort zone and try new things.
Ms Stella Yap (BBA-CGC, Year 4) was awarded the Entrance Scholarship for Non-local Students (Sponsored by C H Chan Scholarship Fund) and HSUHK Honours Academy Residential Learning Award for her outstanding achievements. As the representative of scholarship awardees, she expressed her heartfelt appreciation to donors and the University for their support. Stella said "Through the reflection on my growth and transformation at different stages, I realised the impact that scholarships can have on students, and how it empowers students to achieve their goals and dreams."
To express their gratitude, the awardees collaborated with the Student Affairs Office to produce a photo album for each donor. The albums showcase the 43-year development history of the University, representing our appreciation for the support of all donors throughout the years. The album also includes photos of the awardees, to remind donors of their generosity. To commemorate the event itself, a photo booth with instant printing was also arranged at the venue so that student awardees could take photos with their scholarship donors.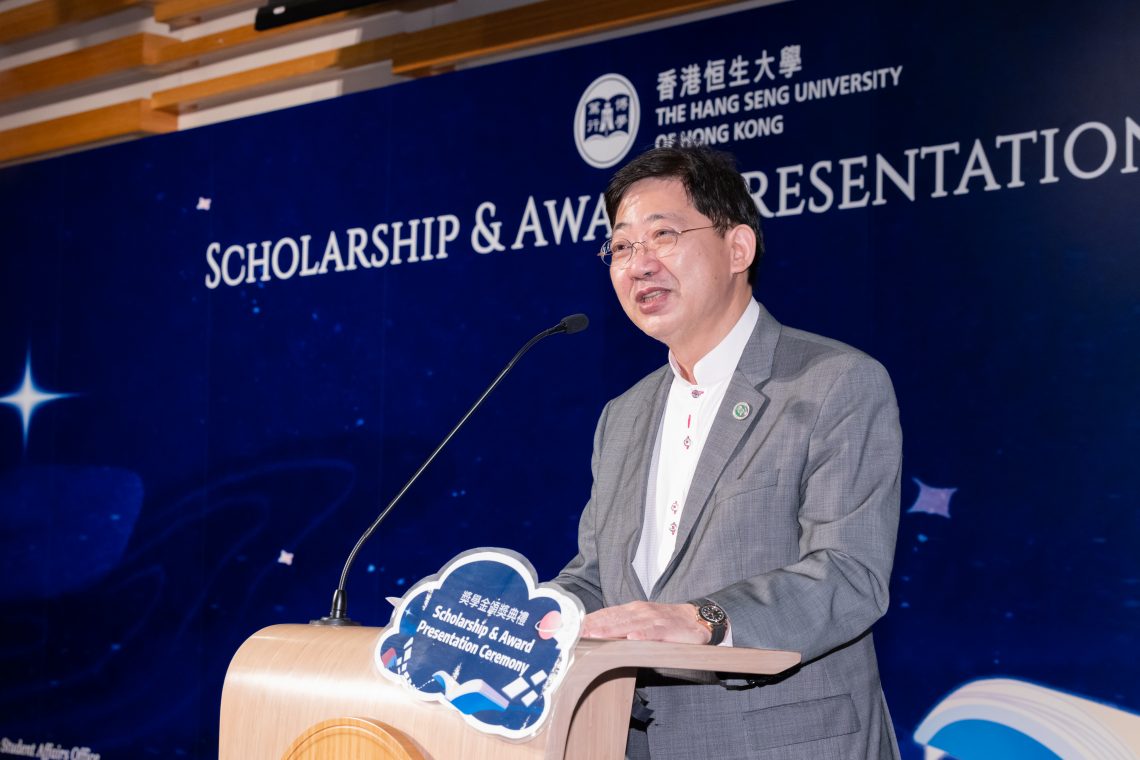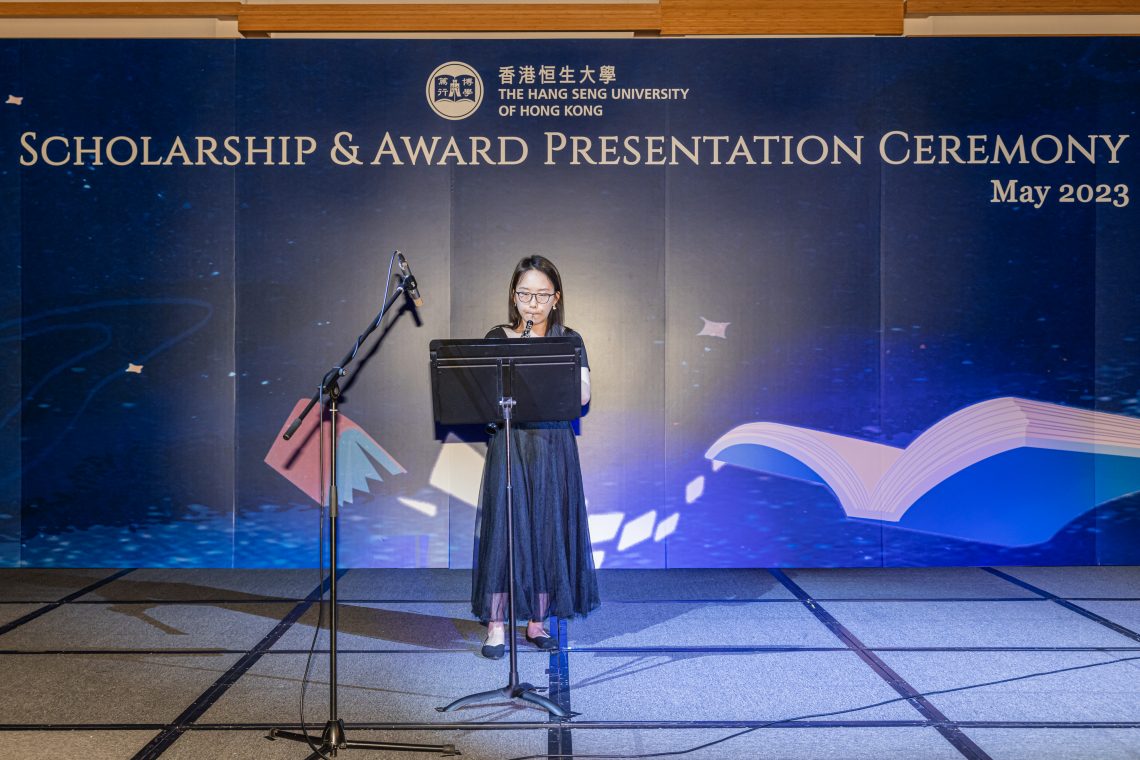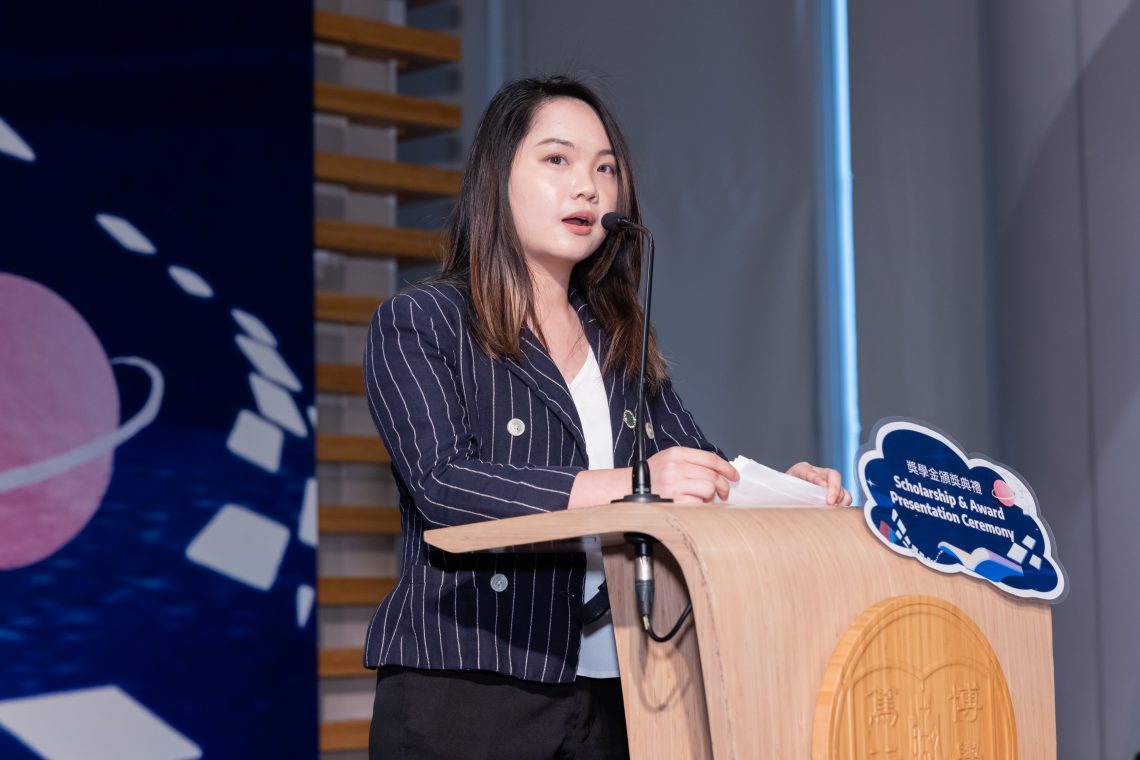 Awardees expressed their heartfelt appreciation to the donors.