HSMC Distinguished Lecture – Professor Yuan-Tseh Lee, Nobel Prize Laureate
21 April 2015
HSMC Distinguished Lecture – Professor Yuan-Tseh Lee, Nobel Prize Laureate
Hang Seng Management College (HSMC) was very honoured to have Professor Yuan-Tseh Lee, winner of Nobel Prize in Chemistry 1986, to host the HSMC Distinguished Lecture themed "Sustainable Development of the Human Society" on 21 April 2015. Over 500 guests including Mr Martin Tam, member of Board of Governors, Professor Chan Tsang-sing and Mr Cheng Kam-por, members of College Council, Professor Simon S M Ho, President, Professor Gilbert Fong, Provost, Dr Karen Chan, Vice-President (Organisational Development), Professor Scarlet Tso, Associate Vice-President (Communications and Public Affairs), Dr Tom Fong, Assoicate Vice-President (Student Development and Campus Services), Ms Ada Leung, Associate Vice-President (Advancement and Industry Liaisons), community leaders, HSMC students, secondary schools students, and the public attended the lecture.
Before the lecture, Professor Lee exchanged with over ten HSMC students his personal growth experience and his story of becoming a scientist. He also discussed how the world, society and even individuals can contribute to sustainable development and inspired students to deliberate.
Professor Simon Ho represented HSMC in welcoming Professor Lee, "It is our great honour to have Professor Lee, an internationally renowned scholar, to visit the College and give a speech. Through this lecture, we hoped that students and the public can be aware of and explore sustainable development of the human society. This year HSMC will organise a range of large-scale academic and exchange activities including 'Symposium on Sustainability and Bamboo' and 'Symposium on Sustainability and Higher Education' that will be co-organised with UNESCO in mid-July in which scholars from around the world will be invited to discuss sustainable development."
Professor Lee felt gratified to give a lecture in HSMC, he said, "I agree with Professor Ho's concept about 'flexibility' and 'degree of freedom' of running a self-financing institution. In a democratic and diversified society, we have the capacity to develop the best college and to nurture the best students". Centred around the theme "Sustainable Development of the Human Society", Professor Lee explained the evolution of human society through economic, education and scientific perspectives, and examined how humans can collaborate and seek ways for the future.
Professor Lee pointed out, "Many people talk about sustainable development and think that it can be achieved merely through fine-tuning in the process of development, with measures on renewable energy and energy conservation. But this is not so simple. To achieve sustainability in human's future, it involves transformation of the whole community, and to move towards a low-carbon society." He concluded, "We are our own enemy. Regardless of our enemies being climate change or degradation of ecological system, the problem can only be solved by changing the pattern of behaviour of all global citizens."
Live broadcast of the lecture was arranged for secondary schools in Hong Kong and Mainland China including Lee Kau Yan Memorial School, Yan Chai Hospital Wong Wha San Secondary School, Foshan Nanhai Guicheng Secondary School, Nanshan School Attached To Beijing Normal University and Shanghai Qibao High School. Teachers and students received real time sharing from Professor Lee and participated in Q&A session.
Sustainable Development of the Human Society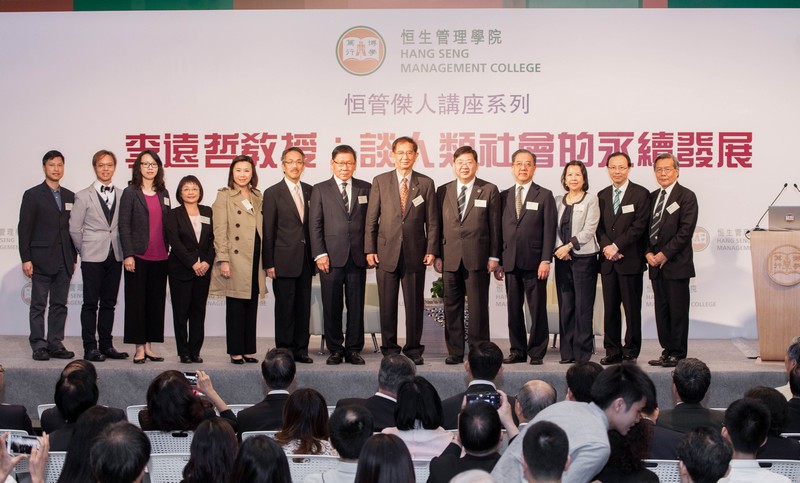 Group photo of Professor Yuan-Tseh Lee, HSMC management, members from Board of Governors and College Council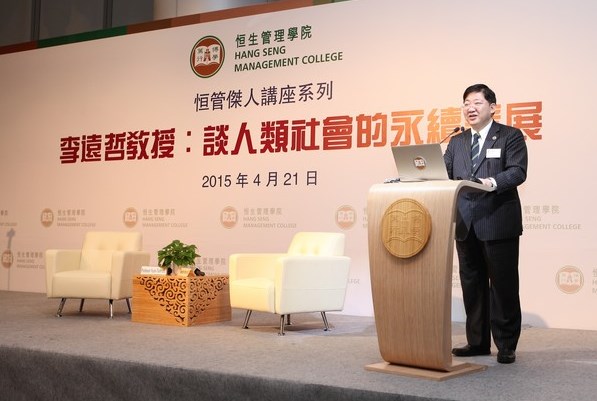 Professor Simon S M Ho delivered a welcoming remarks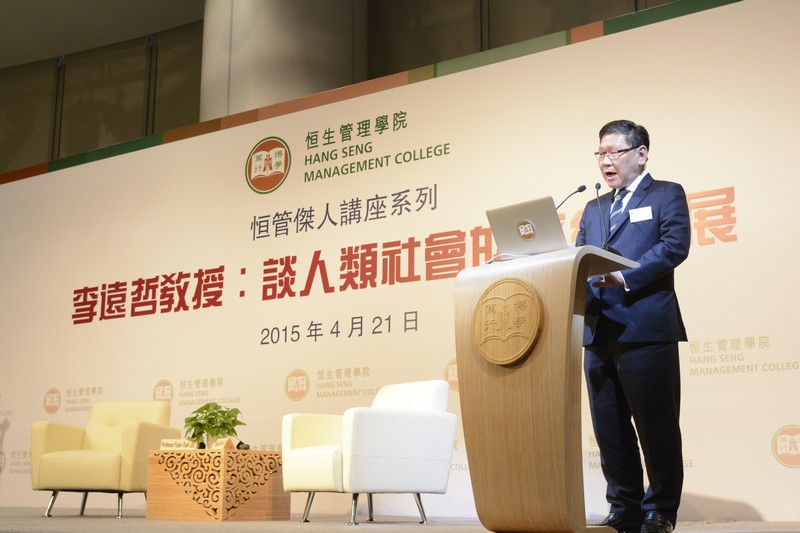 Professor Gilbert Fong introduced the achievements of Professor Lee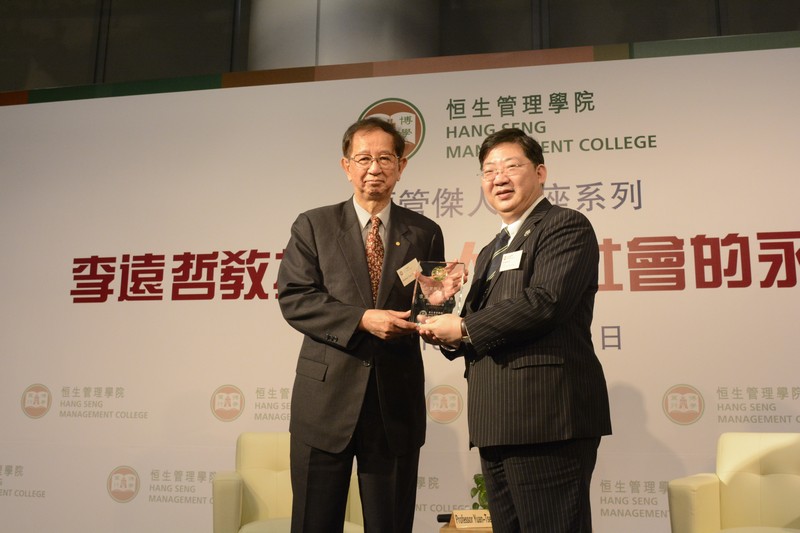 Professor Simon Ho presented a souvenir to Professor Lee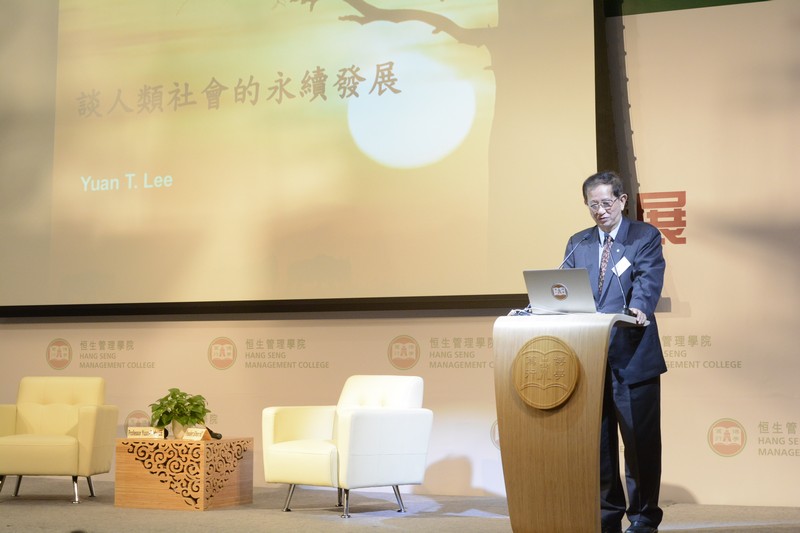 Professor Lee hosted the lecture themed "Sustainable Development of the Human Society"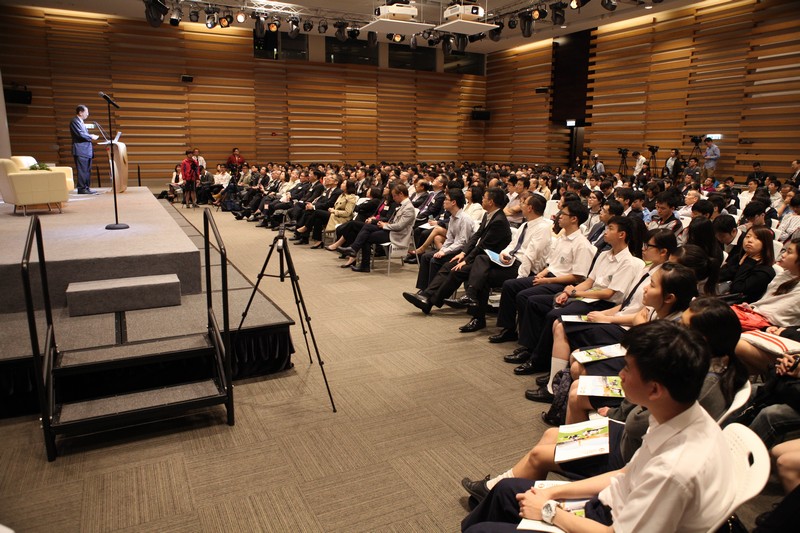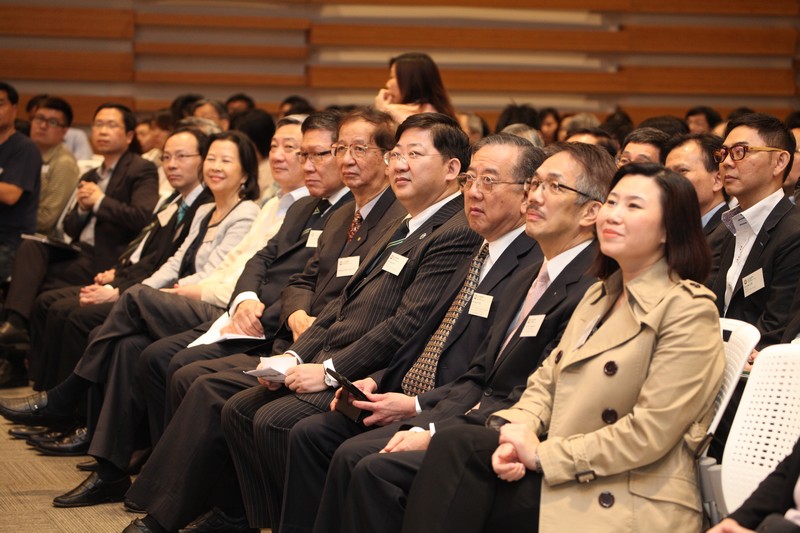 The Auditorium was filled up with over 500 guests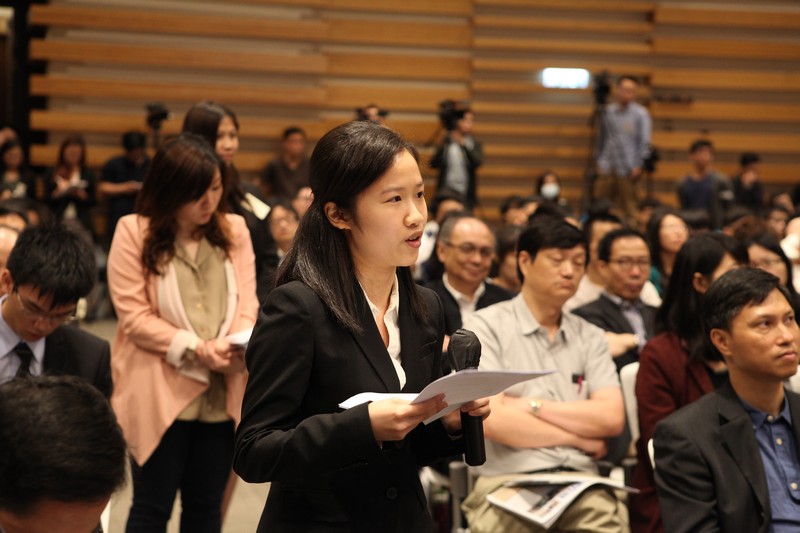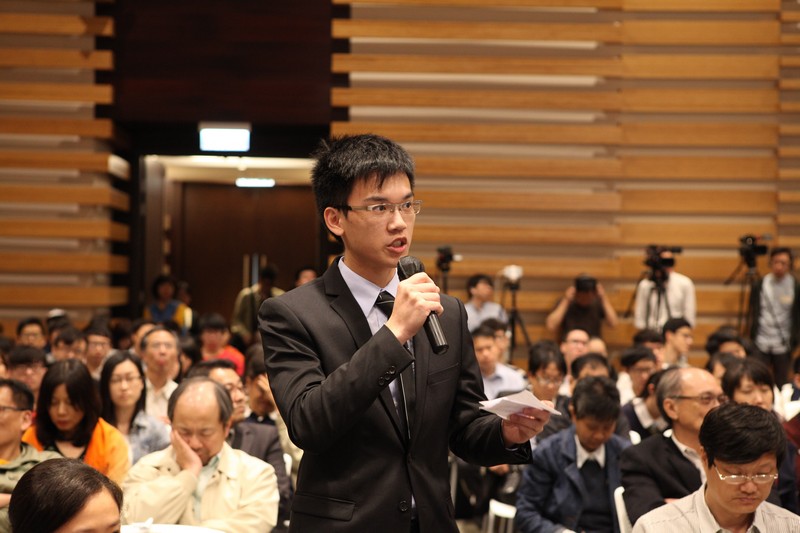 HSMC students shared their thoughts and raised questions after listening to Professor Lee's lecture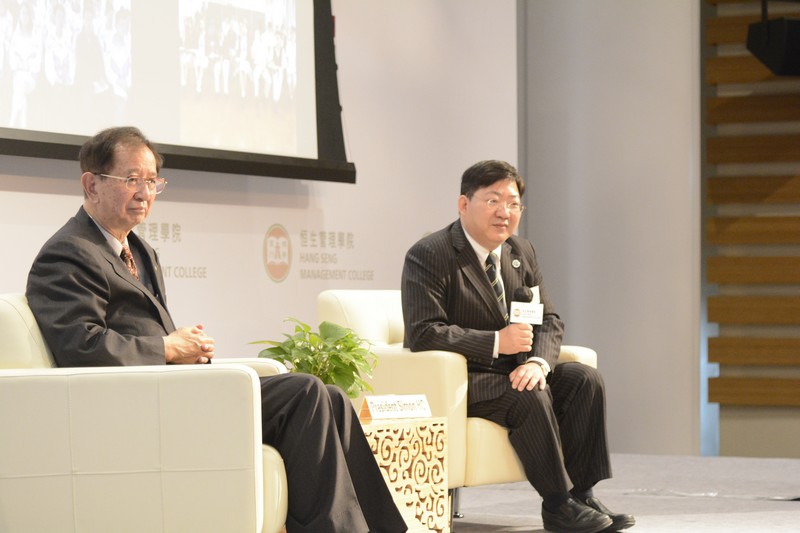 Professor Lee and Professor Ho during the Q&A session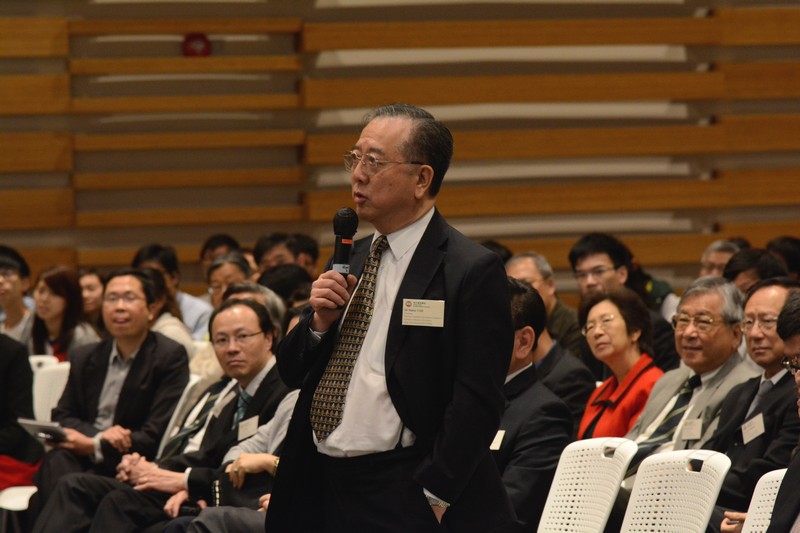 Mr Martin Tam, member of Board of Governors, raised question during the Q&A session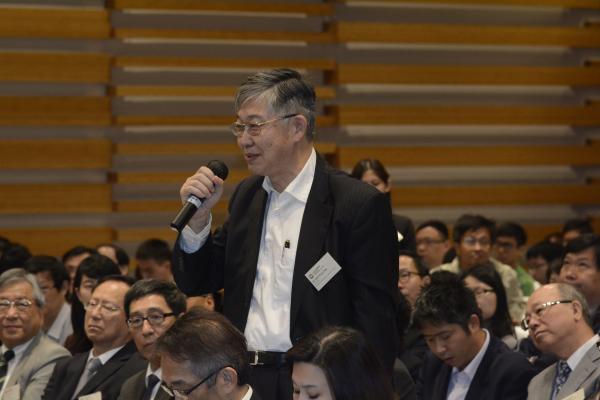 Mr Shih Wing Ching raised question during the Q&A session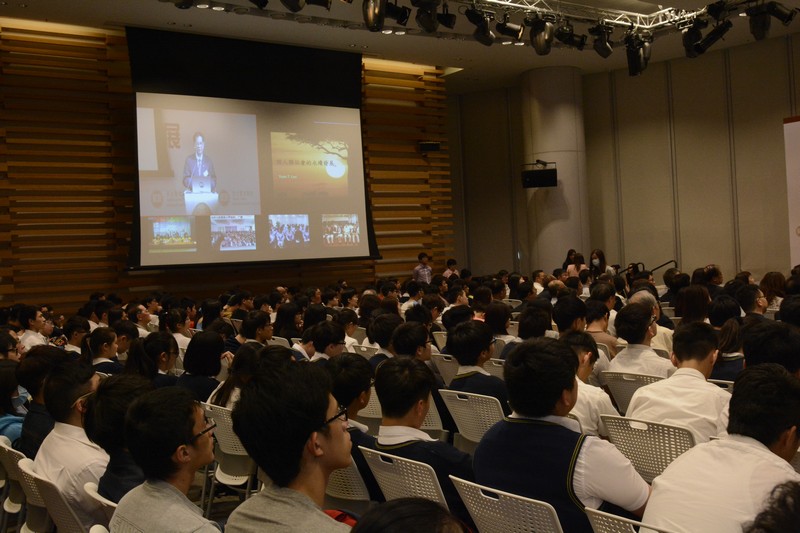 Live broadcast was arranged for secondary school students from Hong Kong and mainland to participate in the lecture and Q&A session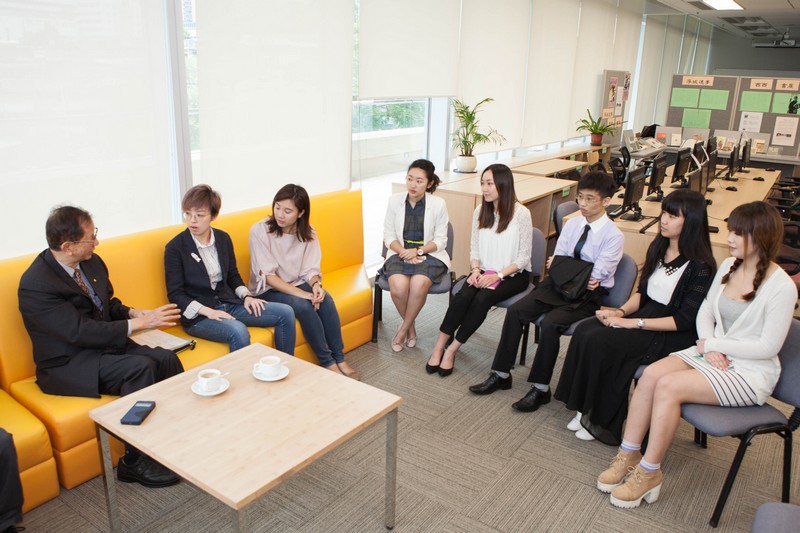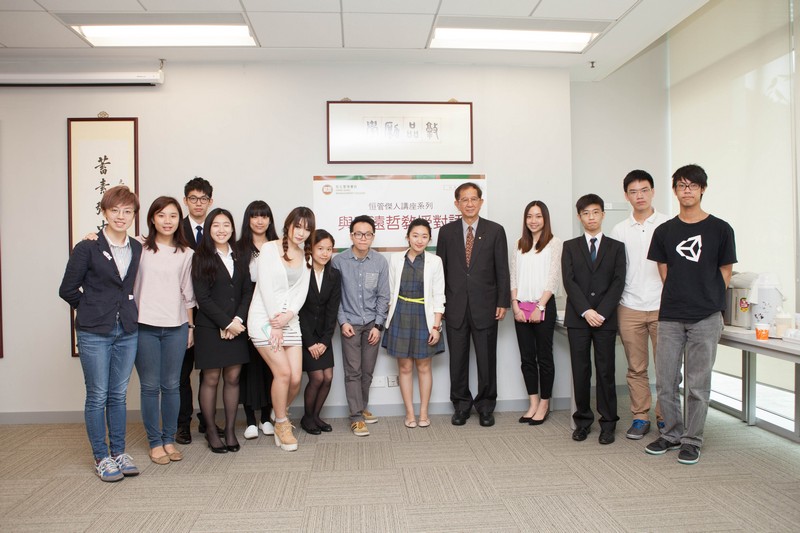 Professor Lee exchanged with HSMC students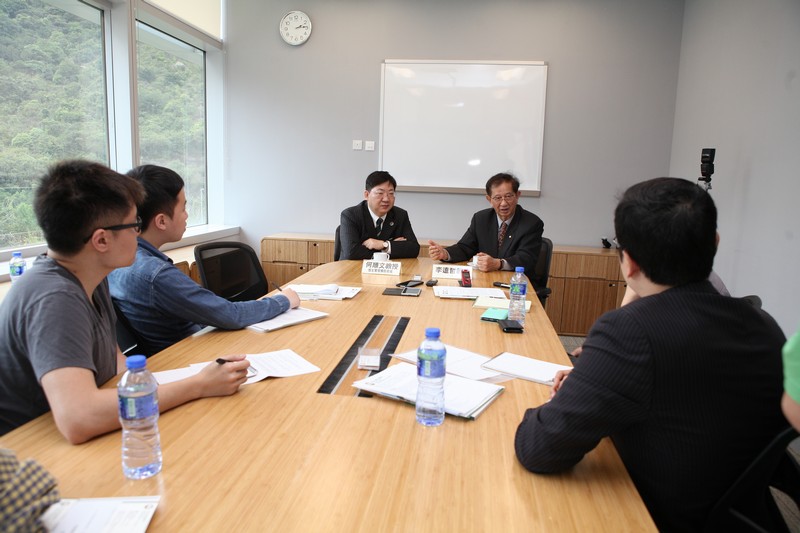 Professor Lee and Professor Ho were interviewed by the media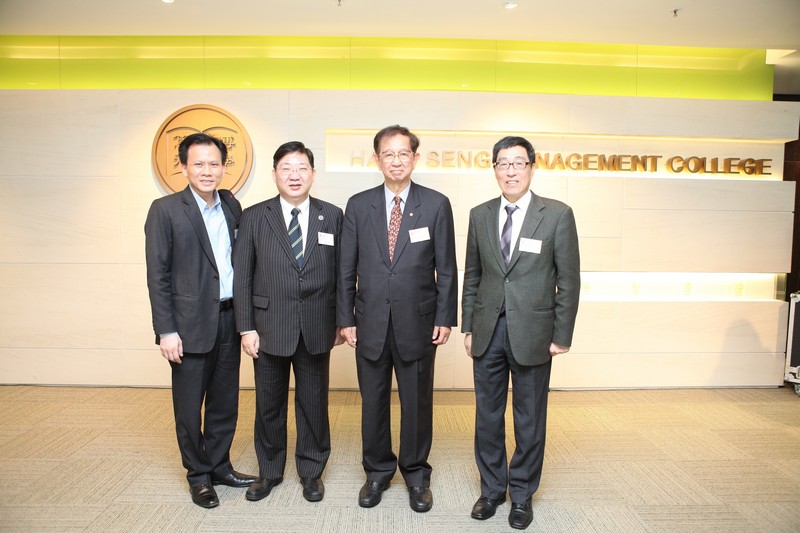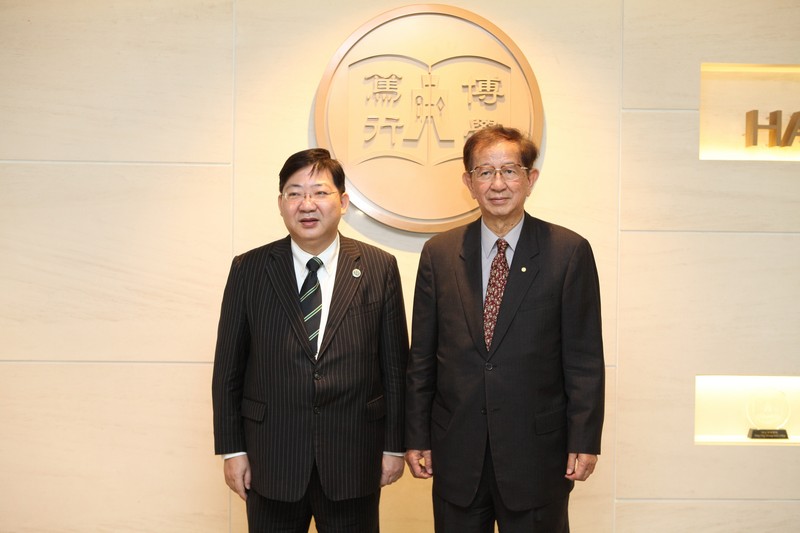 Photos of Professor Lee, President Ho and guests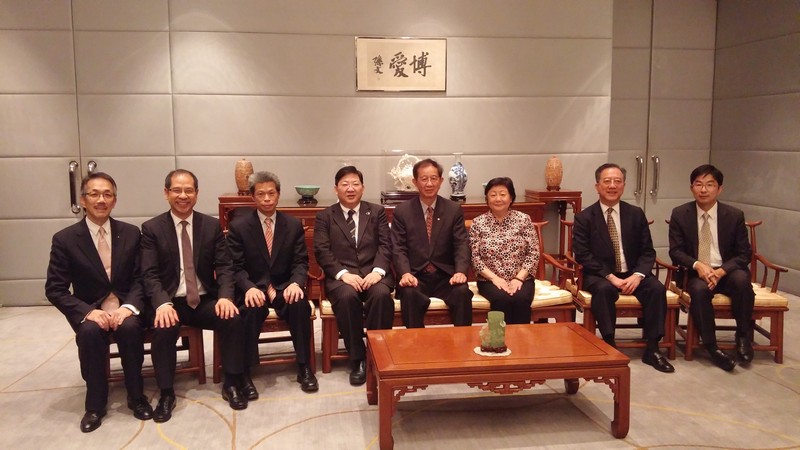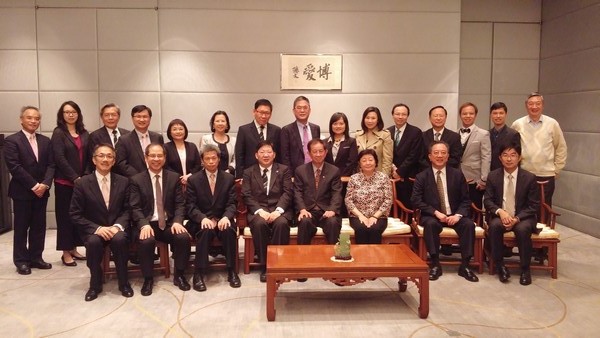 Ms Rose Lee, Chairman of Board of Governors, hosted a dinner for Professor Lee