Two HSMC Students Received HSBC Hong Kong Scholarships
13 June 2016
HangSeng Management College (HSMC) is proud to announce that two outstanding students received the prestigious HSBC Hong Kong Scholarships of a total amount of HK$100,000.
HSBChas a long history of supporting tertiary education in Hong Kong.  Funded by The Hongkong Bank Foundation, the HSBC Hong Kong ScholarshipsScheme benefits top tertiary students with all-round excellence and significantcommitment to Hong Kong.
Ms Yan Lau Yuen Yan, a BJC Year 4 student, and Ms Chris Wong Tung Yi, a BBA Year 3 student, are the two HSMC students among 83 awardees receiving the honour in the HSBC Hong Kong Scholarships Scheme 2015/16.
To congratulate the awardees, HSBC held the"HSBC Scholars Day 2016" on 13 June 2016 at the HSBC Main Building in Central,a celebration event co-hosted by Ms Diana Cesar, Chief Executive, Hong Kong of HSBC,and Dr Rosanna Wong, DBE, JP, Non-Executive Chairperson of the Advisory Committee of The Hongkong Bank Foundation, inviting Mr Carlson Tong, SBS, JP,Chairman of the University Grants Committee, as the Officiating Guest of Honour.
Accompanied by Associate Vice-President Tom Fong (Student Development and Campus Services), Ms Rebecca Chan, Director of Student Affairs, and Ms Alice Chan, Manager of the Advancement and Alumni Affairs Office, Yan and Chris received the recognition onstage for their commendable learning attitude.
Ourtwo elites will join the HSBC Scholars network whichgathers past HSBC scholarship recipients through a number of networking events and community service activities.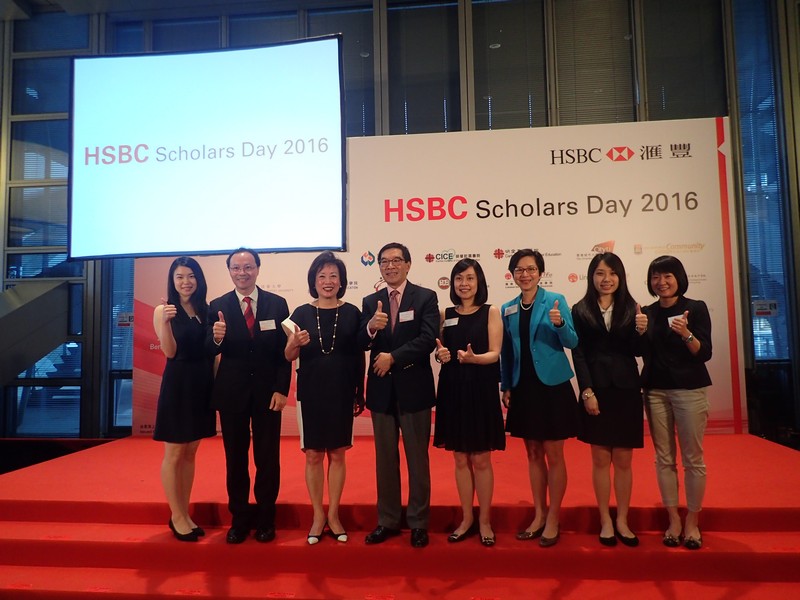 (Left to right) Ms Yan Lau, Associate Vice-President Tom Fong, Dr Rosanna Wong, Mr Carlson Tong, Ms Diana Cesar, Ms Rebecca Chan, Ms Chris Wong and Ms Alice Chan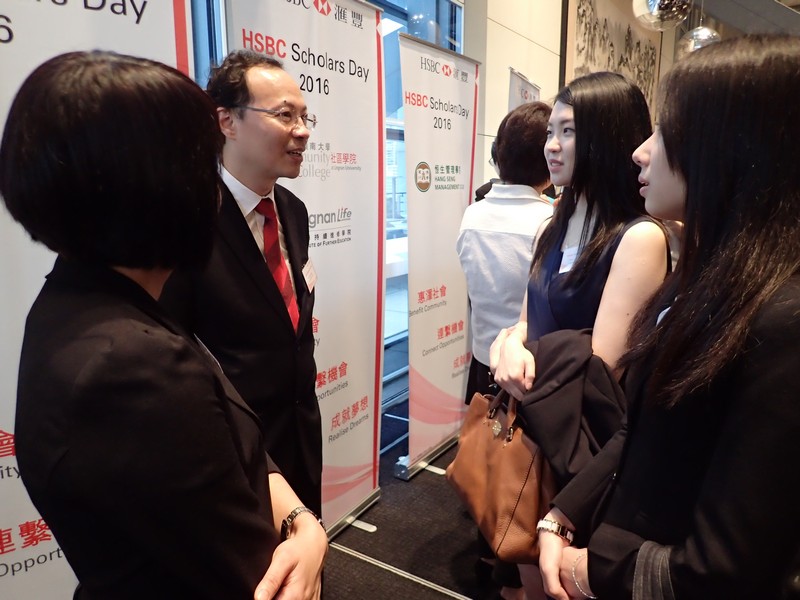 Associate Vice-President Tom Fong congratulated the HSMC awardees