HKSFA – CFA Institute Research Challenge 2015-16

14 November 2015

Words from participating team members – Selwyn Ho, Benson Chan, Ella Cheng, Douglas Lo and Mathew Leung.
The Hong Kong Local Final CFA Institute Research Challenge is one of the annual global competitions hosted by The Hong Kong Society of Financial Analysts (HKSFA). Candidates are required to prepare an equity analysis report on the selected listed company and present the final findings to a panel of judges. Each team would be assigned a CFA Chartered holder as their team mentor and gain intensive training throughout the competition. Our team was competing against 8 other teams from other tertiary institutions in Hong Kong.
This was the first year that Hang Seng Management College (HSMC) participated in this competition. The representing team consisted of five students from BBA-Financial Analysis and BBA – Banking & Finance, including Selwyn Ho, Benson Chan, Ella Cheng, Douglas Lo, and Mathew Leung. It was an honor to have Mr Samuel Lee, Dr David Chui and Dr Nigel Wilkins as our mentors. They shared their valuable experiences from the industry and coached us throughout the competition.
We have learnt a great deal from the company assigned to our team, which was Skyworth Digital Holdings Limited. In order to obtain first-hand information, we kept in close contact with the company. It provided us a taste of how financial analysts work in the real world. Bloomberg terminal training workshops provided by the HKSFA equipped us with the necessary skills for analysing the company.
On the day of the Report Presentation and Award Ceremony, teams presented their findings to a panel of three portfolio managers. The judges were highly impressed by our research and presentation, recognising our efforts throughout the competition. Although this was the first time that HSMC participated in the competition, judges were surprised and pleased with our overall performance and looked forward to HSMC's participation in the future.
It was an honor to represent HSMC. We would like to express our heartfelt gratitude towards Dr David Chui in giving us this opportunity, thereby gaining valuable experiences. We are also thankful to have received assistance and support from our mentors. We are looking forward to next year's competition and hope that we can achieve better results.

Words from Our Mentors


Mr Samuel Lee


:

As a mentor to the Research Competition, it is great to see that university students are interested in analysis of stocks and the securities industry in general. Even though Selwyn and his team had little previous experience in analysing companies, they prepared themselves well by studying the company of interest ahead of time and were not afraid to ask difficult questions. Unexpectedly, I learned something from the young team as well since they had a different viewpoint to the TV industry in China, which challenged conventional thinking and therefore was quite refreshing. I hope the team enjoyed the whole experience including company visits, financial modeling, comparing valuation methodologies to finally writing the report and presenting the subsequent conclusions to the judges. Many thanks to the team for your hard work and congratulations on a job well done!

Dr Nigel Wilkins


:

In the first semester of the 2015/2016 academic year I had the pleasure of being the academic mentor for the HSMC team participating in the 2015 CFA Institute Research Challenge. Five HSMC students voluntarily participated in the competition which involved writing an equities research report on an allocated company (in our case the TV distributor Skyworth) and then presenting the findings of the report in front of an audience and a judging panel consisting of three leading local investment professionals. The challenge demanded a great deal of dedication and hard work from the participants, as well as a high degree of professionalism in the research, writing and presentation of the report. I am very pleased to say that HSMC can be proud of the achievements of their team. At a time when the demands of student life are perhaps at their greatest because of exams and project deadlines, the team did a very fine job in undertaking and participating in all aspects of the challenge. I was very impressed with their enthusiasm, dedication, energy and their desire to do their best. I congratulate them for their efforts, and if their performance was anything to go by, then I am sure they all have promising future careers as equity analysts.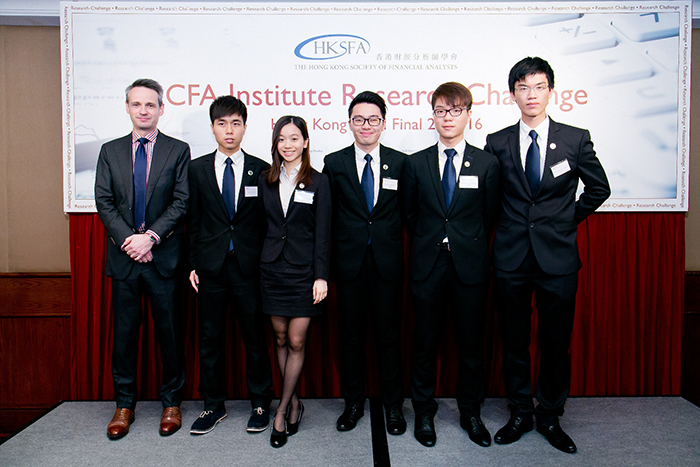 Day of Final Presentation: Dr Nigel WILKINS, Benson, Ella, Selwyn, Mathew and Douglas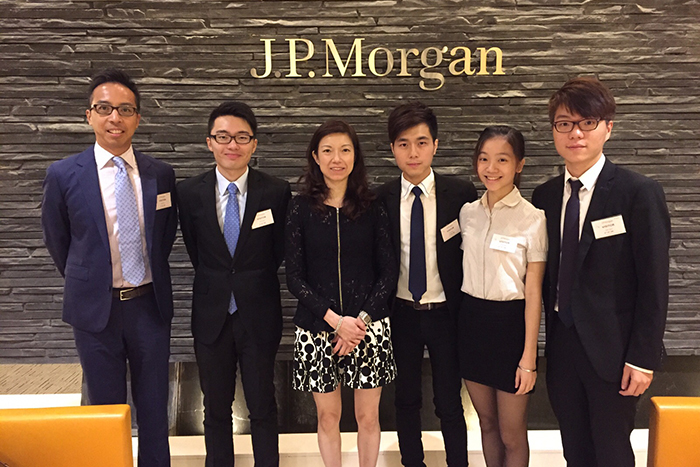 Meeting with Skyworth's Investor Relation in JP Morgan Office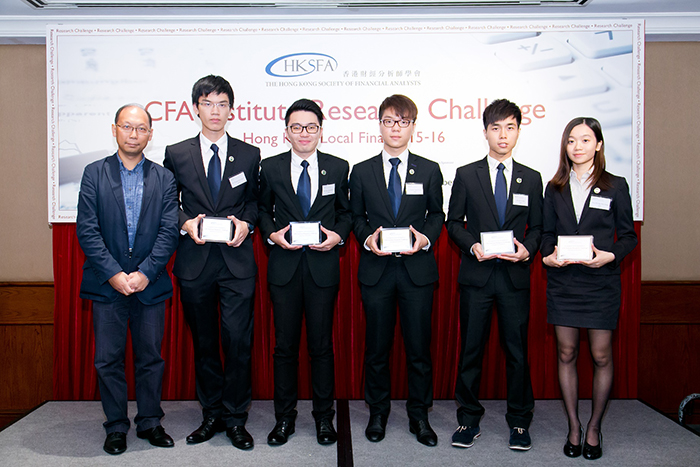 Trophies presented by the host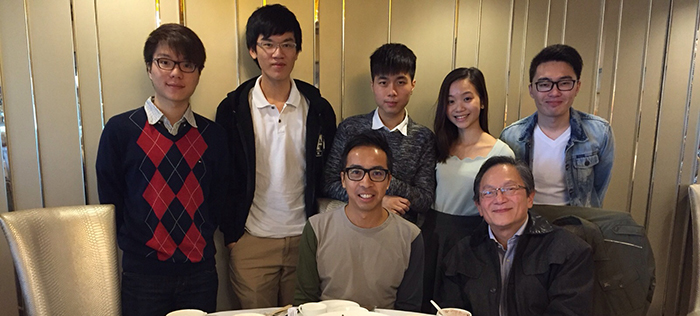 Lunch Meeting with Mr Samuel Lee and Dr David Chui