New Student Orientation 2020 of School of Communication

1 September 2020

New Student Orientation for the 2020/21 intake was held on 21 August 2020 and 1 September 2020 for senior-year entrants and first-year entrants respectively. Due to the COVID-19 pandemic, the School of Communication welcomed its freshmen online via a live broadcast at the SCOM TV Studio for the first time, with over 100 participants joining each session.
Professor Scarlet Tso, Associate Vice-President (Communications and Public Affairs) and Dean of School of Communication, delivered a welcome speech and shared with freshmen words of encouragement. They were urged to cultivate a proper attitude, not only for the challenging yet rewarding university life to come, but also for the sake of their career development in the future. 
To help students get better prepared and make better planning for their studies, Programme Directors and Associate Programme Directors of the BJC and BA-CMCT programme explained the study plans of the two programmes in detail and shared with freshmen vital information regarding Academic Regulations and graduation requirements. The School's summer internship programme, well-received by both participating employers and students every year, was also briefly introduced.
Following a series of information sessions, a live chat session was held where senior students of both programmes were invited to share with freshmen their experience and useful tips in relation to their studies and campus life. The President of Students' Association of Journalism and Communication (SAJC) also introduced the SAJC and promoted upcoming SAJC activities.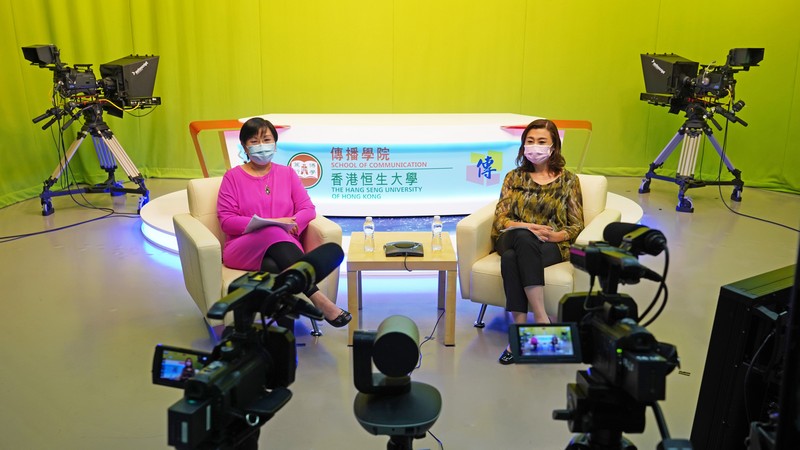 Professor Trevor Siu, BA-CMCT Programme Director, and Dr Howard Song, BJC Programme Director, cordially welcome freshmen of the two programmes.