Career Prospects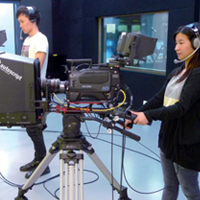 Graduates have a wide range of career options:
With a Business Journalism Concentration
Reporter
Editor
Translator
Producer
Researcher
News Analyst
With a Corporate Communication Concentration
Customer Service Representative
Marketing Executive
Overseas Sales Executive
Researcher
Public Relations Officer
Corporate Communication Officer
Possible BJC Coursework (electives) for your career
---
Career Tracks
Common electives
BJC Coursework
(Suggested elective and free elective)
Business Journalism
Journalist/reporter/
financial journalist
Editor
(in TV, Radio, Website, new media)

Anchoring Workshop/Radio Workshop

Anchor
(TV, Radio, and Live Webcast )

Anchoring Workshop/Radio Workshop

Producer
(Post production supervisor, News photography/
cameraman)
Analyst
(News or Financial)

Anchoring Workshop/ Radio Workshop

Corporate Communication
Public Relations Officer

BJC2214 – Media Production and Advertising
CC Workshop

Financial PR Officer
Communication Consultant

BJC2214 – Media Production and Advertising
CC Workshop

Project Management Officer
Media Planner
New Media Public Relations Consultant
Others
Government Information Service Officer
Remarks
The above listed careers are not exhaustive. The programme also paves ways for potential careers such as flight attendant, news translator, communication policy analyst; media management officer. Please consult your personal tutors for information if you are interested in other potential careers and seek advice on the related coursework.
Our Staff

Study at HSUHK had helped open up my mind and lay a solid foundation for my future. I deeply felt our teachers' caring for the students.

Mr TO Man Tik
Relationship Manager of DBS Treasures
Our Students

When recalling the campus life at HSSC, I would say the programmes were extremely practical, enabling students to build a solid foundation before entering the business field.

Mr Tai Lun, Paul
Far East Regional Managing Director, Mainetti Group
Friend Quotes

HSUHK has developed rapidly in recent years, in both organisational structure and campus environment.

Mr Eddie C S Fong
Managing Director, Head of Operations, Asia Pacific
J.P. Morgan Asset Management