HSMC held Naming Ceremony of Alice Lam Lecture Theatre
9 October 2015
HSMC held Naming Ceremony of Alice Lam Lecture Theatre
Hang SengManagement College (HSMC) named the N102 Lecture Theatre as "Alice Lam LectureTheatre" at the Academic Building (Block N) in grateful recognition to thecontinued support and generous donation of Dr Alice Lam.
The NamingCeremony was held on 9 October 2015, Ms Rose Lee, Chairman of the HSMC Board ofGovernors, Dr Alice Lam, and Professor Simon S M Ho, HSMC President, officiatedthe plaque unveiling ceremony. Over 120 guests including the family members andfriends of Dr Lam, HSMC staff, students and alumni, also attended the ceremonyto witness this memorable moment.
In her welcomingremarks, Ms Rose Lee complimented Dr Lam and the Lam family on the continuedsupport since the founding of Hang Seng School of Commerce (HSSC). Dr Lamdemonstrated her passion towards education through teaching students andleading the development of higher education reforms in Hong Kong.
Dr Alice Lam witnessedthe growth and transformation of HSSC into HSMC and felt a heightened sense ofhomecoming with the audience. She remarked that, "With the expanded degreeprogrammes and campus facilities, I believe that HSMC is heading to the worthygoal of becoming a leading private university in the near future." She alsourged the students and faculty to dream big and far and to continue to nurturebusiness talents for the betterment of Hong Kong.
On behalf of HSMC,President Simon S M Ho expressed sincerest gratitude to Dr Lam for herunswerving support in advancing the sustainable development of the College. Heremarked that, "As HSMC strives to make our 'Liberal + Professional' educational ideal a reality inthe past five years, we are genuinely thankful to the substantial supportand trust from our donors along the way, particularly in light of itsnon-profit self-financing nature."
Alice Lam Lecture Theatre is one of HSMC's major lecture theatres. Locatedon the first floor of the Block N Academic Building, it adjoins a spacious openstudy zone alongside a balcony. Covering an area of approximately 145 m2,the Theatre has a seated capacity of more than 100 people. With comfortableseating, good lighting and professional audiovisual equipment, it provides anideal environment for lectures, seminars and student cultural exchangeactivities.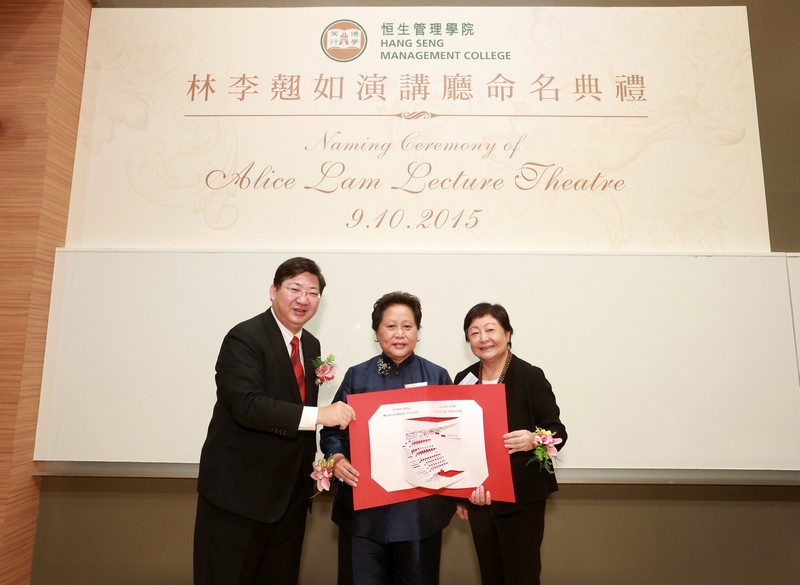 Ms Rose Lee, Chairman of the HSMC Board of Governors (right), and President Simon S M Ho (left) presented a unique handcrafted card to Dr Alice Lam (middle)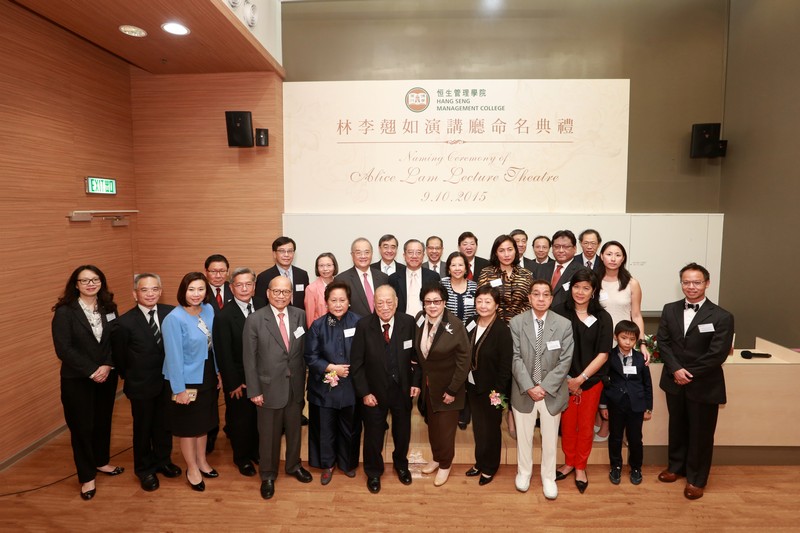 A group photo of Ms Rose Lee, Dr Alice Lam, President Simon Ho, Dr Lam's family members, HSMC Board of Governors and senior management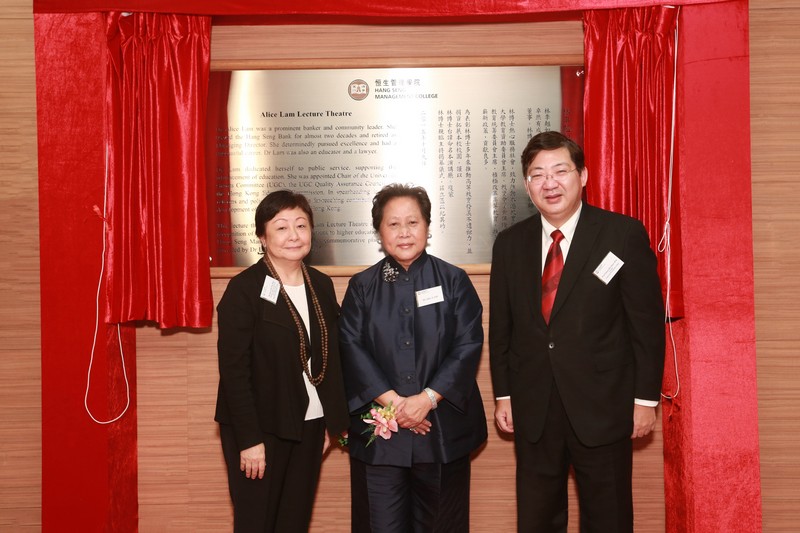 (From left) Ms Rose Lee, Dr Alice Lam and President Simon Ho officiated at the plaque unveiling ceremony